Marlins' bullpen spoils Fernandez's solid outing
Marlins' bullpen spoils Fernandez's solid outing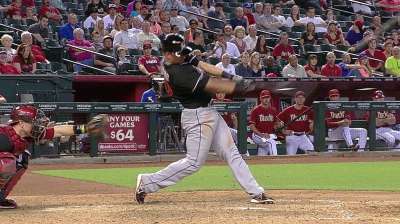 PHOENIX -- Through seven shutout innings Wednesday afternoon, Jose Fernandez was a strike-throwing machine, finding the plate 62 times out of 85 pitches. His command was so spot on that no D-backs player even reached second base against him.
That changed in the eighth inning, however, but not because Arizona figured out how to hit the rookie right-hander. Instead, it was Fernandez's accuracy, or lack thereof, that let him down after being so pinpoint earlier in the day.
A pair of eighth-inning walks chased Fernandez from his impressive outing and set up a pinch-hit three-run homer from Cody Ross off Mike Dunn in a scoreless tie as the Marlins dropped the series rubber match Wednesday, 3-1, at Chase Field.
Once on track for his best Major League outing yet, Fernandez wound up taking the loss.
"It happens. It's a baseball game," Fernandez said. "Dunn came in and I knew he was trying to get outs, but it's a baseball game. Things like that happen. It's not the first time and it's not going to be the last time."
Fernandez thought a couple of the ball calls from home-plate umpire Marty Foster in the deciding inning were borderline, but he didn't want to use that as an excuse.
"Nothing you can do about it," Fernandez said. "The pitches looked close, but I'm not an umpire. I'm a pitcher. He thought it was a ball, so I have to go with it."
Even with the loss, Fernandez's stellar performance Wednesday marked the 10th time this season he has allowed two runs or fewer in a start, including four consecutive.
"He was great, he's a monster out there," Marlins manager Mike Redmond said. "He's 20 years old and he brings it every single time. It's fun to watch but it's frustrating we couldn't get a couple runs and win him that ballgame. That's a good lineup and he carved through them pretty good."
As for Dunn, he had been on a roll before Wednesday, going seven consecutive outings without surrendering a run. The southpaw came into the game to face the left-handed-hitting Eric Hinske, but as soon as the Marlins went to Dunn, the D-backs removed Hinske and sent up the right-handed-hitting Ross, who smacked a 1-2 slider into the left-field bleachers.
"I felt like I executed a good pitch there, he just hit it," Dunn said. "Fernandez did a great job, pitched his butt off and on one pitch, it's like the whole outing got thrown away."
Ross entered the game batting .377 this season off lefties.
"He painted a pretty good fastball away for 1-1, then I chased a slider," Ross said. "And after I swung at that slider, I figured he was probably going to go back to it at some point, so in the back of my head I was sort of looking for it, but staying on the fastball."
Despite the bullpen giving up a game-winning homer for the second consecutive game, Redmond put a large portion of the blame for the loss on his offense, which outhit the D-backs, 5-4, but went 0-for-4 with runners in scoring position.
"We really didn't get anything going offensively the whole series, and that's frustrating," Redmond said. "We give up a big hit and it costs us the game, but we're pitching on pins and needles out there where we can't give up a hit or we lose the game. That's tough. It's not fair to the bullpen guys."
The Marlins' best opportunity came in the ninth when Justin Ruggiano led off the frame with a home run off Heath Bell followed by Ed Lucas and Giancarlo Stanton each reaching base with nobody out. The rally was short-lived though, as Marcell Ozuna flied out to right field, Derek Dietrich popped out to catcher Miguel Montero and pinch-hitter Logan Morrison struck out to end the game.
"We gave it a run there. We had a chance," Redmond said. "I honestly thought we'd win the game right there."
Before that late comeback attempt, the Marlins went from the second batter of the game to the seventh inning without collecting a hit.
D-backs starter Trevor Cahill left the game in the second with a bruised right hip after being struck by an Ozuna comebacker to end the first. In Cahill's place, Josh Collmenter shutdown Miami's lineup. The right-hander gave up just one hit and one walk while striking out seven batters over six shutout innings.
"Looked to me like he was throwing some pretty good pitches to hit," Redmond said. "He did throw a few changeups -- that's his pitch -- but I was surprised he shut us down that many innings."
Tyler Emerick is an associate reporter for MLB.com. This story was not subject to the approval of Major League Baseball or its clubs.