Big night at the plate brings Rangers closer to top
Big night at the plate brings Rangers closer to top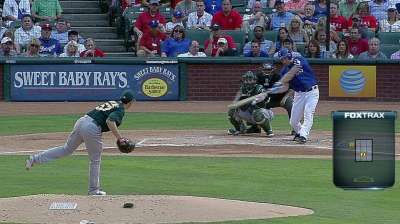 ARLINGTON -- A Rangers starting pitcher has finally won a game in June, and it wasn't even a quality start.
Justin Grimm couldn't outlast Tommy Milone on the mound, but he was the beneficiary of a Rangers' lineup that burst through just as his night came to an end. The Rangers collected 14 hits in their 9-4 win over the A's on Wednesday at Rangers Ballpark in Arlington and moved to within two games of the top spot in the American League West.
Grimm allowed three runs, all in the fifth inning. He walked two of his first four batters to start the inning and allowed a two-out, three-run homer to Chris Young in the fifth at-bat of the frame to put the Rangers down, 3-2. Young had a .186 batting average before the game and had gone 8-for-56 in his previous 18 games.
"I left him a cookie over the plate, and he did what he was supposed to do," Grimm said.
Grimm worked his way out of the fifth but was relieved by Jason Frasor in the sixth. Grimm threw just 75 pitches, walking two and striking out two.
"He's been working hard, and he's been battling," manager Ron Washington said. "It's always been one inning for him, but tonight we were able to come back, get back in the ballgame, take the lead and hold on to it."
The Rangers put up two runs in the bottom of the frame to put Grimm in line for the win. They started the inning with consecutive singles by David Murphy and Leonys Martin. Murphy scored on a sacrifice fly by Ian Kinsler, and Martin slid home safely on a fielder's choice, eluding Derek Norris' tag at the plate to put the Rangers up, 4-3.
Murphy had a season-high three hits. Martin finished 2-for-3 and has hit safely in five straight games.
"With this lineup, you can't afford to miss a whole lot and expect good results," A's manager Bob Melvin said. "That's what they get paid to do -- hit mistakes."
Grimm improved his record to 6-5 with the win, snapping a club-record 17-game winless streak for the Rangers' rotation. Derek Holland was the last starter to receive a win, on May 31 against the Royals. The Rangers had the only winless rotation in the Majors in June prior to Wednesday's contest.
"This win goes to our offense," Grimm said. "They came back and picked me up after that pitch. That's good to see."
The Rangers sent nine men to the plate in the sixth and pieced together great at-bats, racking up four runs on six hits and knocking Milone out of the game in the process. Milone dropped to 6-7 with the loss. He allowed six runs on eight hits in 5 1/3 innings, and he got a walk and a strikeout on 100 pitches.
"When we don't really give a pitcher a break and we're having great at-bats continuously, we're putting a lot of pressure on the opposing pitching staff," Murphy said. "That's what we do when we're successful."
Milone allowed a home run in the second, with Lance Berkman's two-run shot giving the Rangers an early lead. Berkman entered the game 15-for-82 in his last 22 games before the homer to center field.
The Rangers scored nine runs for the first time since May 30, and their win guarantees at least a split against their AL West foe.
"I think we got the monkey off our back as far as having a total drought offensively," Washington said. "I think some guys are starting to figure some things out throughout the lineup. I think we'll start to get more consistent, and then we'll get back to playing our baseball. I do feel good about our team, and they feel good about themselves in that clubhouse."
Master Tesfatsion is an associate reporter for MLB.com. This story was not subject to the approval of Major League Baseball or its clubs.