Cespedes still not 100 percent, starts at DH again
Cespedes still not 100 percent, starts at DH again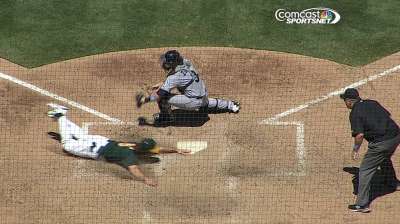 ARLINGTON -- Yoenis Cespedes, who is nursing a tight left hamstring, has still not been cleared to play the field and started at designated hitter for the sixth straight game on Wednesday.
Cespedes missed two games with the hamstring issue before returning to the lineup as the DH and has had just three hits in 20 at-bats in the five games since. He is hitting .232 with two home runs and 13 RBIs this year.
"He always wants to play in the field," manager Bob Melvin said. "When you're in the field, you're always doing something. There's a feel to the game. When you're DH-ing it just feels like you're pinch-hitting four times."
Despite Cespedes' struggles, the A's are 36-20 when he is in the lineup and 7-10 when he isn't. It's still unclear when he will be able to return to the outfield.
"When he's in the lineup, we're a better team, whether he's swinging well or not," Melvin said. "[His hamstring] isn't 100 percent, and that's the reason he's not in the field, but it's not to the point where he has to limp around the bases."
Christian Corona is a contributor to MLB.com. This story was not subject to the approval of Major League Baseball or its clubs.