Washington shuffles the lineup deck again
Washington shuffles the lineup deck again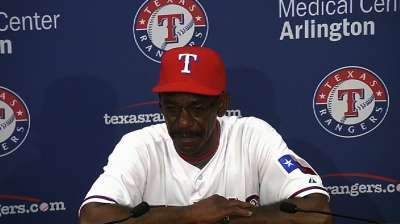 ARLINGTON -- The Rangers had yet another lineup change.
Nelson Cruz was bumped up to third in the order on Wednesday, switching spots with Lance Berkman in the fifth spot. Cruz hasn't hit third since 2010, when he appeared there seven times. He's 11-for-31 with a home run, four doubles and two RBIs for his career hitting third.
"I'm pretty nervous; it's tough to be hitting third," Cruz said sarcastically. "It's the same. You're going to be up there, and they're going to throw the same pitches whether you hit it or not."
The Rangers have had 12 lineups in the last 13 games, dating back to June 7 at Toronto. It's their 50th batting order in 72 games.
"It's just the nature of who I have to play because of the injuries," manager Ron Washington said. "I like to keep a consistent lineup, I just haven't been able to."
Although the Rangers scored just two runs on Tuesday, Washington said the offense isn't in the same slump it was when the team lost six straight. He gave credit to Oakland's Jarrod Parker, who kept Texas' offense fighting from behind the count throughout the game.
"When we were in that spell, I think that we were giving up at-bats too quick," Washington said. "We ended up winning a ballgame, and the bats settled down a lot more."
Master Tesfatsion is an associate reporter for MLB.com. This story was not subject to the approval of Major League Baseball or its clubs.