'Team first' focus behind Balfour's success
'Team first' focus behind Balfour's success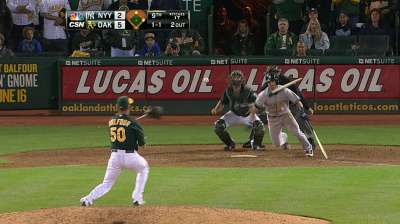 ARLINGTON -- Grant Balfour has discovered that the less he focuses on himself and the more he focuses on the team, the better his individual performance becomes.
Balfour has converted all 17 of his save chances this season, the most without a blown save in the American League. He has individual goals -- ones that he won't share but says don't involve numbers -- but finds that he's at his best when the only stat he's concerned with is the one in the win column.
"Years ago I got caught up in what I was doing," Balfour said. "I think when you go out and you pitch to win, to win for the team every day, your individual numbers seem to be a lot better. I just see it a little differently in the last five or six years. You play as a team. You win as a team."
It's been nearly 14 months since Balfour has blown a save, as he's converted 35 in a row since last May and posted a 1.21 ERA in 30 appearances this year. He has yet to allow multiple runs in an outing this season and has tossed 8 1/3 scoreless innings entering Wednesday's game against the Rangers.
"Pete Rose had the best [quote], when his son came up to him and said, 'I'm in a slump. What do I do?' and he said, 'I don't know. I was never in a slump,'" Balfour said. "I can honestly say I've been through some tough times and dealt with a lot of things. If things are going good, you just try to ride them as long as you can."
Christian Corona is a contributor to MLB.com. This story was not subject to the approval of Major League Baseball or its clubs.