Phils fall to Nats in 11 after Papelbon's blown save
Phils fall to Nats in 11 after Papelbon's blown save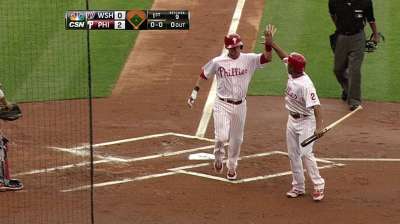 PHILADELPHIA -- Jonathan Papelbon carried a blank look on his face as he answered questions Wednesday night at Citizens Bank Park.
Papelbon blew his second save in three games in a 6-2 loss to the Nationals in 11 innings when he allowed a game-tying single to Jayson Werth with two outs in the ninth. It cost the Phillies a sweep, although the offense failing to pick up a single hit between Michael Young's two-run homer in the first inning and Carlos Ruiz's two-out single in the 10th played a major role, while Ian Desmond's grand slam against Mike Stutes in the 11th sealed it.
A victory would have provided the Phillies momentum entering a weekend series against the Mets. Instead, they answered more questions about another game they should have won.
"Fundamentals, fundamentals," said Papelbon, trying to explain the Phillies' 35-38 record. "This is a game of fundamentals, and we've got to do the fundamentals right, and keep grinding. It's a game of who grinds the most and who plays the best fundamental baseball. That's pretty much it."
Papelbon's ninth inning started when Denard Span hit a 3-1 pitch past Phillies first baseman Ryan Howard, who was playing even with the bag. Freddy Galvis came up with the ball, but he did not make a good throw, while Papelbon could not hold onto the ball for the out.
Papelbon said he was surprised Howard positioned himself there.
"I was thinking with a 3-1 count, the infield would be back and I would just run to first base [to cover] and catch an underhand throw," he said. "It's just one that snuck through. It's a tough pill to swallow."
Papelbon said he was not referring to that play when he referenced fundamentals, but he said, "I'm talking about everything. Everything from the pitchers making the correct pitches, pitchers backing up the correct bases, outfield is moving on counts, infield is moving on counts, every little thing that goes into every pre-pitch. We've got to do better. It's not pointing one finger at anybody. It's a team. It's a team effort here. It's 162 games of grinding baseball.
"To be able to win and to be able to be in the forefront of the playoff race, you've got to play good fundamental baseball and do the little things in this game. And the little things are all before that pitch is thrown. Every pitch. There's 150 pitches thrown by our pitchers, and before every one of them, we've got to make sure we're putting ourselves in a position to be the best we can be before each pitch."
Papelbon walked Adam LaRoche with two outs before Werth struck a first-pitch fastball into left field to score Span to tie the game.
"It ran across the middle," Papelbon said. "It wasn't a great pitch. It's a pulled ball that finds the six-hole. I can't really do a whole lot about that."
The loss wasted a fine effort from Kyle Kendrick, who allowed two hits, one run, one walk and struck out six in 7 2/3 innings. Nineteen of Kendrick's 23 outs came on groundouts or strikeouts. Just five balls left the infield.
Phillies manager Charlie Manuel replaced Kendrick with two outs and nobody on base in the eighth when the Nationals sent left-handed hitter Chad Tracy to the plate. Manuel wanted left-hander Antonio Bastardo to face Tracy, but he said even if Kendrick, who threw 92 pitches, had a more favorable matchup, he was not pitching the ninth.
"I'm not mad," Kendrick said. "It's his decision. I respect the manager's decision. I always respect Charlie's decisions. That's what he wanted. I said I could get him out, but he said, 'No, I want the lefty.' That's fine. I'm just mad about the loss."
Nationals lefty Gio Gonzalez matched Kendrick. He allowed two hits, two runs, two walks and struck out 11 in seven innings. The two hits gave the Phillies the early lead. Ben Revere hit a leadoff single in the first to extend his hitting streak to 10 games. Young followed with a two-run home run to left to make it 2-0. They were the 1,000th and 1,001st RBIs of his career.
The offense hibernated the rest of the night, but the Phillies still were just one out from victory.
"We needed to show the Phillies we're still hanging around," Nationals manager Davey Johnson said.
"We got lucky," Werth added. "We stole this one. It was one of those games that you need if you are going to win the division. You need a bunch of wins like this."
Asked if the Phillies would be in a better place if they played cleaner baseball, Papelbon said, "I can't predict the future. I don't have a magic crystal eight-ball to tell you that. That's the game of baseball. It's a pretty simple game, and when you try to do too much, it becomes very complicated.
"Did we play a good series against the Nationals? [Heck], yeah. We did. We had a chance to win all three ballgames, and that's all you can really ask for. With that being said, I've still got to make the pitch to Werth."
Todd Zolecki is a reporter for MLB.com. This story was not subject to the approval of Major League Baseball or its clubs.