Homers with men on an issue for Verlander in '13
Homers with men on an issue for Verlander in '13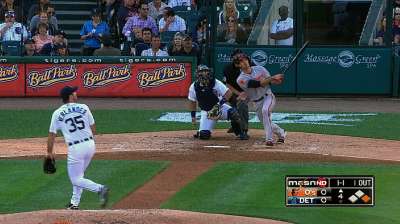 DETROIT -- Tigers ace Justin Verlander's home run rate is actually lower than last year. So why does it seem like he has been hurt by the long ball more so far?
It's more a matter of the runners on when Verlander has given them up.
J.J. Hardy's two-run homer and Adam Jones' three-run shot for the Orioles on Tuesday pushed Verlander's total to seven homers over 92 innings this year, a rate of .68 home runs per nine innings. He had a .72 rate last season, according to Fangraphs, though he allowed just six homers over 108 2/3 innings through his first 15 starts of that campaign before hitters began powering out more pitches later in the year. Verlander had a .86 rate during his American League MVP Award campaign of 2011.
Verlander's seven home runs this season, though, have accounted for 14 runs. Just two have been solo shots, both hit by Hardy in a 10-3 Tigers win in Baltimore on June 1.
The five multirun homers this year already match the total Verlander gave up last season. Fourteen of his 19 homers allowed in 2012 were solo shots, and the other five were two-run homers. Fifteen of the 24 homers Verlander allowed in 2011 came with nobody on base.
Put it together, and the damage has come from the baserunners Verlander has given up ahead of the homers. His 1.34 WHIP is the second highest of his career, trailing only his disastrous 2008 season. The home runs and doubles, meanwhile, result in a .455 slugging percentage with runners in scoring position, by far the highest of his career.
Jason Beck is a reporter for MLB.com. Read Beck's Blog and follow him on Twitter @beckjason. Bobby Nightengale is an associate reporter for MLB.com. Follow him on Twitter @nightengalejr. This story was not subject to the approval of Major League Baseball or its clubs.