Holaday makes first start behind plate this season
Holaday makes first start behind plate this season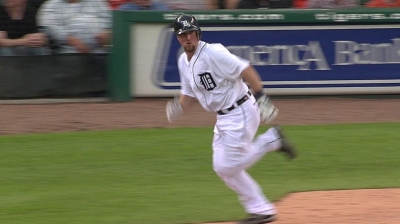 DETROIT -- Bryan Holaday got his first start behind the plate this season on Wednesday against the Orioles, after being called up from Triple-A Toledo on Monday when Alex Avila went on the 15-day disabled list. And Tigers manager Jim Leyland had no worries about how Holaday will do.
"I think he'll be fine," Leyland said. "I think Holaday's good at following a game plan, I think [starter] Ricky [Porcello] knows what he wants to do. I think [pitching coach Jeff Jones] will have him programmed. You hate to sound like a computer program, but he'll have him programmed just the way he wants to do. So that won't be an issue. I think the guys really liked throwing to [Holaday] in Spring Training. Like I said, he's got a lot of energy and I don't think it's any big deal."
Although Holaday has been better against left-handed pitchers at Toledo this year in a small sample size, Brayan Pena started against left-hander Zach Britton on Tuesday because of the success Pena had with Justin Verlander in his previous two outings.
"Verlander has been working pretty good lately with Pena, so I thought I'd do that," Leyland said. "That's something that I don't normally do, because I don't want to get into that ruffle where a guy is going to have a special catcher for a special pitcher -- not Verlander, but any combination. I don't do that, but I did it last night because they were real good in Kansas City together, so I thought I'd go ahead and catch him and then do something different."
Leyland didn't want Pena starting three games in a row, especially a day game after Tuesday's night game. Pena hasn't started three consecutive games since 2011 with the Royals.
Jason Beck is a reporter for MLB.com. Read Beck's Blog and follow him on Twitter @beckjason. Bobby Nightengale is an associate reporter for MLB.com. Follow him on Twitter @nightengalejr. This story was not subject to the approval of Major League Baseball or its clubs.