Manuel will be challenged to find spot for Frandsen
Manuel will be challenged to find spot for Frandsen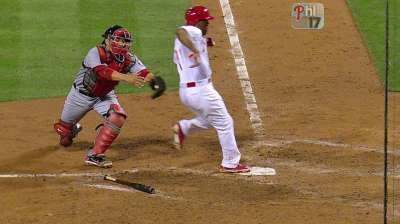 PHILADELPHIA -- Manager Charlie Manuel likes to say that if you can hit, he will find a spot for you in his lineup.
But will Manuel really find a place for Kevin Frandsen with Chase Utley expected back from the disabled list before the end of the weekend?
Frandsen, who started Wednesday's game against the Nationals at second base, entered having hit .304 (14-for-46) with three doubles, two home runs, five RBIs, three walks, four strikeouts and a .907 on-base-plus-slugging percentage in 15 prior starts this season. He hit .330 (62-for-188) with 10 doubles, three triples, two home runs, 13 RBIs and an .828 OPS in 49 starts last season. Those are good numbers for a team desperate for offense.
But with Utley coming back to be the everyday second baseman, is there any way for Manuel to get Frandsen into the lineup? Third base would make sense, but Michael Young hit .408 (20-for-49) with five doubles, one triple, four RBIs and a .971 OPS over his prior 12 games before Wednesday's series finale with Washington.
Manuel could play Frandsen occasionally at first base when the Phillies face a left-hander. Frandsen entered Wednesday hitting .395 (34-for-86) with seven doubles, two triples, two home runs, eight RBIs and a 1.046 OPS against left-handers the past two seasons, while Ryan Howard was hitting just .206 with a .599 OPS against lefties this season, and .205 with a .618 OPS against lefties the previous three seasons.
Manuel said he could play Frandsen in the outfield, although it sounded unlikely. Frandsen has played 14 games in the outfield in the big leagues, but just one inning since 2007.
"If it gets to a point, I may try things," Manuel said. "Right now, it looks like second and third and first base every now and then. But I'll never rule out where to play him. Especially if he can catch a ball that he's supposed to catch."
Todd Zolecki is a reporter for MLB.com. This story was not subject to the approval of Major League Baseball or its clubs.