Werth, Desmond lead Nats' rally in win over Phils
Werth, Desmond lead Nats' rally in win over Phils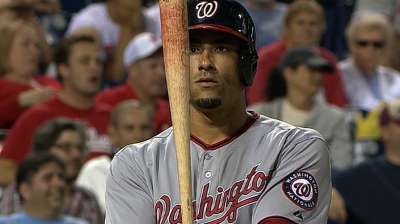 PHILADELPHIA -- It was Monday that shortstop Ian Desmond went to manager Davey Johnson and said the Nationals weren't a loose bunch compared to last year, in part because the team doesn't have a winning record.
It's fitting that Desmond did his part to loosen the team up on Wednesday night at Citizens Bank Park. His grand slam in the 11th inning helped the Nationals defeat the Phillies, 6-2, salvaging the three-game series, snapping a three-game losing streak and improving their record to 35-36.
The Nationals did something in the series finale that has been rare this season: They came through when they had runners in scoring position.
With the game tied at 2, one out and reliever Michael Stutes on the mound, Desmond came to the plate, and with the count 1-2, Stutes thought he had Desmond struck out looking, but home-plate umpire Alfonso Marquez called Stutes' fastball a ball.
"The pitch [you're talking about], I thought it looked a little bit in, but it might have been a strike. I don't know until I go look at it," Phillies manager Charlie Manuel said.
Desmond hit the next pitch over the left-center-field wall to give Washington the lead. It was Desmond's 10th home run of the season. He now leads the team with 38 RBIs.
"Ian is quite a character. He got a lot of big hits for us in the past," Johnson said. "The only thing that I worry about sometimes is that he tries too hard. It seemed like he was a little too geared up, and then when he got to two strikes, he shortened up and he crushed that ball. [Stutes] threw a good breaking ball and [Desmond] crushed it, didn't try to swing hard."
Desmond has a knack for hitting with the bases loaded. He had a .410 batting average with 34 RBIs prior to Wednesday's game. Desmond didn't know about the stat until after the game.
"I'm trying to come through for my guys," Desmond said. [Jayson Werth] and the guys in front of me had great games. … God gave me another chance, and I came through."
The way the Nationals' offense has been playing lately, left-hander Gio Gonzalez needed to have a perfect game to win. But he wasn't perfect, and settled for a no-decision.
It was arguably Gonzalez's best game of the year, but he made one costly mistake, and it occurred in the first inning. After Ben Revere singled to left, Michael Young followed and hit a 2-2 pitch over the left-field wall for a two-run homer. After that, Gonzalez retired 14 out of the next 15 hitters he faced. He didn't allow a hit the rest of the way.
Gonzalez lasted seven innings, allowed the two runs on two hits, and struck out a season-high 11 batters.
"The first inning was a little bumpy," catcher Kurt Suzuki said. "He settled in and kept us in the ballgame, kept us around. We came back and tied it up and took the lead."
Although the Nationals were down, 2-0, it felt as if they were further behind because the offense has sputtered for most of the season. And it was the same story against right-hander Kyle Kendrick, who pitched 7 2/3 innings and allowed a run on two hits. The Nationals were able to get the ball out of the infield just five times against Kendrick.
"K.K. pitched a good game. Sometimes you scratch your head going back to the dugout, trying to figure out how you made an out or why you didn't hit that pitch," Werth said. "He has good stuff, he has late movement. He continues to be successful. He pitched good. We got lucky. We stole this one. It was one of those games that you need if you are going to win the division. You need a bunch of wins like this."
Washington scored its first run in the seventh inning, when Werth singled to right field, scoring Ryan Zimmerman.
But the Nationals would tie the game at 2 with Phillies closer Jonathan Paplebon on the mound in the ninth. They were down to their last out when Werth singled to left field, scoring Denard Span.
"I've had a lot of big at-bats over the years," Werth said. "I'm just trying to see the baseball, not a lot more than that. Just keep it simple. The game is tough enough."
The Nationals had a chance to score the go-ahead run against reliever Mike Adams in the top of the 10th inning. They had a runner on third with one out, but Jeff Kobernus grounded out with the infield in and Span popped up to Young at third base.
But it was Desmond who gave them the lead and the victory.
"We have a long way to go," Werth said. "But at the same time, we have to start winning ballgames and start being a championship team. Hopefully, this is a start. We can build on this. I think we could live with 4-5 [on the now-completed road trip], especially with how we have been hitting. We are going to be home. We play well at home, and hopefully we get on a roll."
Bill Ladson is a reporter for MLB.com and writes an MLBlog, All Nats All the time. He also could be found on Twitter @WashingNats. This story was not subject to the approval of Major League Baseball or its clubs.