Stitches in his chin, Kinsler in action for Texas
Stitches in his chin, Kinsler in action for Texas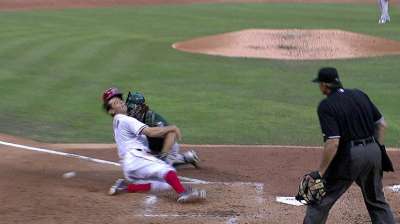 ARLINGTON -- Manager Ron Washington considered removing Ian Kinsler from Tuesday's game following his home-plate collision.
Washington wanted to see what Dr. Keith Meister thought about the gash on the bottom of Kinsler's chin after it collided with catcher John Jaso's mask. Meister, who worked with the NHL's Dallas Stars, quickly applied three stitches to the wound.
"Dr. Meister is a hockey man," Washington said. "'Drop a couple of stitches and [go] back on the field.' That's what he did. ... There wasn't an issue."
Kinsler said that even though the area was numb after the impact, he received three anesthetic shots before Meister applied the stitches. Kinsler doesn't know when the stitches will be removed, and he sported a bandage to protect the area during Wednesday's game.
"It was deep, it wasn't huge," Kinsler said. "My face wasn't hanging off my shoulder or anything like that. It was just a cut that needed some stitches."
Kinsler hasn't seen the replay of the incident, and he also didn't see Jurickson Profar recoil when Kinsler trotted to the dugout with blood on his jersey.
"If he's scared of that, he hasn't seen a lot in his life," he said. "It was just a cut."
Master Tesfatsion is an associate reporter for MLB.com. This story was not subject to the approval of Major League Baseball or its clubs.