A's lose game, ground in AL West to Rangers
A's lose game, ground in AL West to Rangers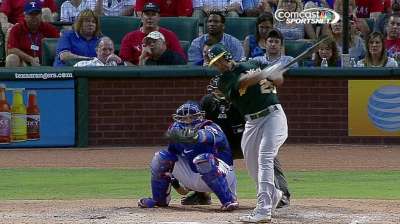 ARLINGTON -- Entering the fifth inning, the A's had yet to figure out Rangers rookie right-hander Justin Grimm.
They had not advanced a baserunner past first base through the first four frames, but that changed in the fifth, when Chris Young, batting leadoff for just the second time this year, launched a two-out three-run homer onto the hill past the center-field wall.
That turned a two-run deficit into a one-run advantage, but as quickly as the A's took the lead, they lost it. The Rangers scored twice in the fifth and four times while batting around in the sixth on their way to handing the A's a 9-4 loss at the Ballpark in Arlington on Wednesday night.
"We've been going back and forth with these guys ever since we've been here," Young said. "When we punch, they've been punching back. It's our job to be able to punch again. We were able to do that yesterday. Today we just weren't able to do as much."
With a chance to help give the A's their biggest lead in the American League West this year, left-hander Tommy Milone allowed a season-high six runs -- one more than he had surrendered in his previous three starts -- on eight hits over 5 1/3 innings. The A's, who have lost four of their last six games after winning 20 of the previous 25, saw their lead in the division trimmed to two games with the loss.
"A little out of the ordinary for Tommy," manager Bob Melvin said. "Chris hits a big home run, and that's a big momentum shift, because it didn't look like Tommy had his best stuff. Then you try to go out and shut it down. Tommy has done that for us a bunch of times. It just didn't happen tonight."
After Lance Berkman belted a 398-foot two-run homer into the A's bullpen beyond the wall in left-center in the second inning, Young responded with his 404-foot shot.
But Milone quickly surrendered the one-run lead, starting the fifth by giving up singles to David Murphy and Leonys Martin. Murphy scored on a sacrifice fly by Ian Kinsler to tie the score at 3. The Rangers took a one-run lead when, with Martin on third base, Nelson Cruz hit a chopper to third baseman Josh Donaldson, who fired wide of catcher Derek Norris, allowing Martin to slide in safely.
"If I make the throw I normally do, he's out," Donaldson said. "My first thought was to try to turn two, but in my peripheral [vision], I saw him running, and I didn't think there was going to be a play because of how the ball was hit. I felt I still had a chance to get him at home, which I did, I just threw a little cutter."
The Rangers blew open the game the following inning. Milone exited with two on and one out in the sixth before Dan Otero replaced him and promptly gave up back-to-back RBI singles up the middle to Martin and Kinsler. Milone had turned in three straight quality starts this month before being knocked around in this one.
"I just felt like I didn't have it today," Milone said. "I wasn't feeling too good. I felt good in the first, and on some pitches here and there. In the fifth and sixth, I was just leaving balls over the plate. That was a problem."
After Cruz hit an RBI infield single to a diving Jed Lowrie at shortstop, Norris left the game after being hit in the groin by a foul tip off the bat of Adrian Beltre. The first pitch after John Jaso replaced Norris behind the plate was lined by Beltre to left for a double, sending Kinsler home and giving the Rangers a five-run lead.
"We just put some good at-bats together and made [Milone] work a little bit," Rangers manager Ron Washington said. "After seeing so many pitches from him, we got comfortable. Once we got comfortable, we did some good things."
A.J. Pierzynski added to the lead when, after being hit by a pitch, he crossed the plate on a wild pitch by Jesse Chavez in the seventh. A day after tying a season low by allowing only three hits in Tuesday's 6-2 victory, the A's gave up nine runs, the third time that's happened this year, on 14 hits.
Yoenis Cespedes, who doubled and scored on a single by Donaldson in the eighth, was the only A's baserunner to advance past second base before or after the fifth inning.
Christian Corona is a contributor to MLB.com. This story was not subject to the approval of Major League Baseball or its clubs.