Young leads off again while Crisp, Jaso rest
Young leads off again while Crisp, Jaso rest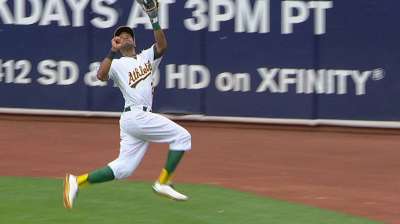 ARLINGTON -- Chris Young batted leadoff for the second time this season, starting in center field while Coco Crisp got a day off. John Jaso was also left out of the lineup.
Young's previous start as the leadoff hitter came last Friday, against the Mariners, when he went 3-for-3 and ended a triple shy of the cycle. He hit leadoff 244 times in seven seasons with the D-backs before coming to Oakland.
"He has extensive experience and success [batting leadoff]," manager Bob Melvin said. "It's actually kind of natural. I'll do that with Jaso sometimes, but without him in the lineup today, it's natural."
Young contributed a three-run homer in Wednesday's 9-4 loss.
Jaso homered for the second time this year and was hit by a pitch in Tuesday's 6-2 win over the Rangers before not starting on Wednesday. He was also involved in a collision at the plate when Ian Kinsler scored in the third inning on Tuesday.
[Jaso]'s a little beat up," Melvin said. "He got a ball off the foot, got a bat off the foot. He's a little brusied up. It's probably the right time for a day off."
The day off didn't last, though, as Jaso replaced an injured Derek Norris in the sixth inning, and went 0-for-2.
Christian Corona is a contributor to MLB.com. This story was not subject to the approval of Major League Baseball or its clubs.