A's starters hitting their stride
A's starters hitting their stride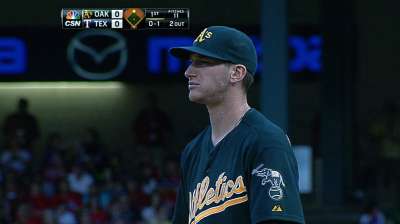 ARLINGTON -- It's no coincidence that the A's season turned around at the same time the team's starting pitching did.
A's starters have gone 17-5 with a 2.84 ERA in their last 31 games after going 14-21 with a 5.09 ERA in their first 42 contests. The A's are 23-8 during that 31-game stretch, going from 7 1/2 games behind the Rangers in the American League West to three games ahead of them entering play on Wednesday.
"You look at all the different facets, and it's the biggest difference in this latest little streak we've had," manager Bob Melvin said of the starting pitching. "The offense was good early on, and we were overcoming some shortcomings among the starters, but this is a nice run they've had. Any time your starter goes out there and keeps the opponent down, it gives you a lot of confidence."
Whereas the Rangers, 12-18 since May 17, have yet to get a win from a starting pitcher this month, A's starters have thrived. Jarrod Parker has been one of the most effective during this stretch, going 4-1 with a 2.34 ERA in his six starts since May 17 -- all of them quality starts.
"We're the tone-setters out there as starters. This team is built around having a good starting staff," Parker said. "We've been happy. But at the same time, we all know what we're capable of. We obviously know we can be even better."
Christian Corona is a contributor to MLB.com. This story was not subject to the approval of Major League Baseball or its clubs.