Tuiasosopo might get more chances vs. righties
Tuiasosopo might get more chances vs. righties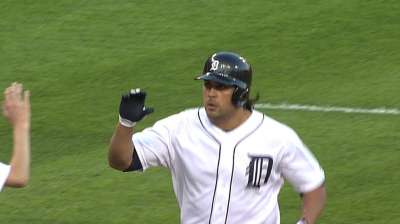 DETROIT -- Tigers left fielder Matt Tuiasosopo is off to the best start of his career, and as a result, he might get a crack at becoming more than a platoon starter against left-handers.
With left fielder Andy Dirks stuck in a midseason slump, batting .194 in his past nine games, it may open more playing time for the right-handed-hitting Tuiasosopo. After Tuiasosopo hit his third home run of the season on Tuesday, manager Jim Leyland kept him in the lineup against a right-handed reliever, something he has been doing more.
Although it's a small sample size, the results for Tuiasosopo against righties have been impressive. In 26 at-bats entering Wednesday, he has nine hits, four doubles, two homers and 10 RBIs for a 1.145 OPS.
"If Dirks, who has been struggling, [continues to struggle], maybe you might consider it -- putting [Tuiasosopo] in there once in a while a little bit more," Leyland said. "I think that's a very fair question. … I'm not ready to do that just yet."
Tuiasosopo said his success this season is not only because of his platoon role, but also that he's simplified his approach at the plate.
"I do the thought-process stuff before the game, pre-batting practice stuff. But once the game starts, it's just go out there and play," Tuiasosopo said. "Play freely and trust your gut, your eyes and instincts. Whatever happens is going to happen. [It's helpful] being able to just trust it when I'm there and keep it simple."
Jason Beck is a reporter for MLB.com. Read Beck's Blog and follow him on Twitter @beckjason. Bobby Nightengale is an associate reporter for MLB.com. Follow him on Twitter @nightengalejr. This story was not subject to the approval of Major League Baseball or its clubs.