Hughes and Yankees fall flat in nightcap
Hughes and Yankees fall flat in nightcap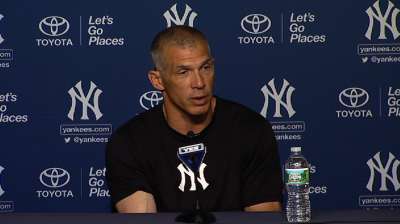 NEW YORK -- Phil Hughes' troubles within the not-so-friendly confines of Yankee Stadium continued on Wednesday, as the right-hander allowed five runs and heard boos as the Yankees fell to the Dodgers, 6-0, in the second game of a day-night doubleheader.
Hughes completed six innings and kept Los Angeles' lineup in the yard, but he was still unable to reverse his trend of struggling when pitching in the Bronx. Hughes permitted 10 hits and fell to 1-4 with a 6.68 ERA on his home mound this season.
"There comes a point in every game that's kind of the turning point of the game," Hughes said. "Two runs is fine. Three runs, you feel like you can come back from that. But after five, you start pressing a little bit. You know, I just really couldn't find a rhythm or locate pitches when I needed to."
Rookie phenom Yasiel Puig added an opposite-field homer off Adam Warren in the seventh inning to pad the lead. Dodgers starter Chris Capuano and two relievers made it hold up, retiring 17 of the last 18 Yankees batters as New York fell for the sixth time in eight games.
"We couldn't get anything going," the Yankees' Lyle Overbay said. "We had some chances, but we just couldn't. They came out, got some key hits early, and we still did a good job of keeping it to a minimum and giving us a chance. We just couldn't get anything going."
The defeat came after Ichiro Suzuki rolled back the clock with three hits, including a two-run homer, and drove in three runs to lead New York to a 6-4 victory in the first game of the Interleague doubleheader.
Hiroki Kuroda logged 6 2/3 innings of two-run ball in the afternoon during his first start against his former club, outpitching Hyun-Jin Ryu, and Mariano Rivera struck out Puig looking at a 93-mph cutter for his 25th save in 26 opportunities.
"I feel so happy to face the best closer," Puig said. "I'd like to get a base [hit] off him, but he beat me, like he beats everybody."
In the nightcap, the Yankees' lineup was silenced over six strong innings by Capuano, who was activated from the disabled list between games of the doubleheader.
"This was one of the better games for me this year so far," Capuano said. "The long flight to San Diego wouldn't have been a happy flight, so we wanted to get out of here with a win."
Capuano held New York to three singles, two of which were infield hits to shortstop. He walked none and struck out four.
"He kept the ball down real well, threw strikes and kept us off balance," Overbay said. "I've gone up with him in the Minor Leagues and the big leagues, so I know if he's keeping the ball down, he's pretty effective."
Los Angeles struck early as Hughes allowed hits to the first four batters he faced, including RBI singles by Adrian Gonzalez and Hanley Ramirez, but he escaped the inning thanks to a timely double-play ball.
"I really didn't have good control in the first inning," Hughes said. "I was kind of fortunate I got a double-play ball to get us out of that. From then on, it was just a struggle to find any sort of rhythm."
It would figure to be a poor time for Hughes to be digging out of a rut, as the Yankees have Ivan Nova trying to pitch his way back to the Majors at Triple-A Scranton/Wilkes-Barre and Michael Pineda working through his rehab assignment in the low Minors.
Yankees manager Joe Girardi made it clear that he is not pleased with Hughes' performance, but he also gave no indication that a rotation change is on the horizon.
"I haven't really thought about moving Phil out of the rotation," Girardi said. "He's capable of doing a good job for us, but right now he's struggling."
Hughes, who entered this year primed to pounce on what still can be a big payday in free agency, said that he is not worried about keeping his spot in the Yankees' starting five.
"My only concern is pitching well," Hughes said. "Things that I can't control, I don't really concern myself with. My No. 1 baseball priority is pitching well every five days, and that's really all I worry about."
Andre Ethier added a run-scoring double off Hughes in the third inning. The Dodgers tacked on more in the fifth as Puig was hit by a pitch, stole second and scored on Ethier's broken-bat single.
Jerry Hairston Jr. lifted a sacrifice fly to complete the scoring against Hughes. Girardi said that he would love to see more even results from Hughes, whose storyline of good start vs. bad start has become all too familiar, and there should be urgency for that.
"I have to be better, that's for sure," Hughes said. "So that's pretty much it."
Bryan Hoch is a reporter for MLB.com. Follow him on Twitter @bryanhoch and read his MLBlog, Bombers Beat. This story was not subject to the approval of Major League Baseball or its clubs.