Errors mar Mattingly's first game vs. Yanks
Errors mar Mattingly's first game vs. Yanks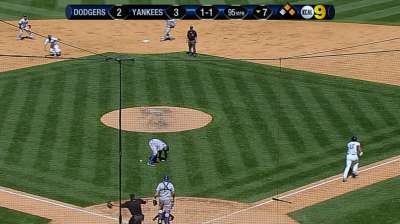 NEW YORK -- The Yankees and their fans showed Don Mattingly what he still means to them as the favorite son returned on Wednesday, while the Dodgers showed New York -- thanks to their 6-4 loss of the first game of a doubleheader -- why the team Mattingly now manages is in last place.
Four hits by Hanley Ramirez, including a two-run homer, couldn't overcome four errors by the Dodgers, especially a pair on the same play by struggling reliever Ronald Belisario in a three-run bottom of the seventh that decided the game, the seventh loss by the Dodgers in their past nine games.
Mattingly was cheered by a large turnout of adoring fans, and the beloved former first baseman was saluted by his former club in a highlight video at the new Yankee Stadium, which he called pretty cool.
Not so cool to the Dodgers' skipper was the multiple misplay by Belisario, who intentionally didn't catch a soft popup by Vernon Wells with one out and runners on first and second, as he got cute trying to decoy Yankees baserunners into a double play.
But then Belisario couldn't find the ball. And when he finally did, he threw it into center field as a run scored and two others were set up.
"I've never seen that play work when you let it bounce -- ever," a disturbed Mattingly told reporters outside the clubhouse. "It's just a mistake, a bad time for it. You bring him in to get a ground ball. You've got to get an out, got to catch the ball."
Catcher A.J. Ellis said he "encouraged" Belisario to catch the ball, but he didn't. Then he "encouraged" Belisario to throw to third base, but he didn't.
"It was a bizarre play," said Ellis. "I'm sure we all wish we could have it back. It's a tough situation. The ball wasn't in the air that long, the crowd noise. It was probably the wrong decision at this point."
What did Belisario say?
For unknown reasons, the Dodgers wouldn't let reporters into the clubhouse to find out, and a club official said Belisario wouldn't come outside to discuss it.
So there was also no reaction from Ramirez on his breakout offensive game as the designated hitter (after a 3-for-20 struggle) or Yasiel Puig's unveiling on the New York stage, which pretty much was in keeping with the rookie's play leading up to the game.
Puig singled in the first inning, but he was thrown out trying to stretch it into a double. He nearly threw out Thomas Neal at first base when he singled sharply into right field leading off the bottom of the second inning. Puig lined out sharply to center field in the third. He was robbed of a hit by Robinson Cano on a smoking one-hopper in the sixth. He successfully stretched a hit into a double in the eighth. And Puig became Mariano Rivera's newest victim, taking a called strike three to end the game.
"Real aggressive. Young boy, why not?" Rivera said of Puig. "If that's how you play the game, why are you going to change when you play in the big leagues? That's the way you play, you continue playing the way you learned. Being aggressive, there's nothing wrong with that. You just have to be smart. A little bit too aggressive in the first, but it took a perfect throw to get him out. If the throw is a little to the left or the right, he's safe. I like to see young boys like that. I love to see the aggressiveness of the young boys that come to play hard. That's the way you play the game of baseball."
Mattingly was impressed with Puig's throw to first, but not the two attempts to stretch a single into a double, especially the successful one in the eighth inning down by four runs, even though Puig was safe at second and scored on Ramirez's home run.
"I don't have trouble with him doing it in the right situation," Mattingly said. "But not when he hits it right at [center fielder Brett Gardner], who doesn't play around getting the ball back in. To me, the percentages just aren't there. He could be out easy. We want him to be aggressive, but with a good chance of making it. Just running into outs is like keep running until they throw you out. There's a fine balance to knowing when the time is right."
The Dodgers also ran out of a scoring chance in the fourth inning when Adrian Gonzalez led off with a single and was doubled to third by Ramirez. But bad baserunning undermined the threat when Yankees starter Hiroki Kuroda snagged Andre Ethier's line drive and doubled Gonzalez off third.
The game began as a duel between pitchers whose Major League careers started with the Dodgers. Winning pitcher Kuroda (7-5), a member of the Dodgers for four seasons after arriving from Japan, faced his former team for the first time and outpitched Korea's Hyun-Jin Ryu (6-3) in what turned into a mini-World Baseball Classic, with six countries represented in the starting lineups.
Ken Gurnick is a reporter for MLB.com. This story was not subject to the approval of Major League Baseball or its clubs.