Ichiro, Yankees spoil Mattingly's return
Ichiro, Yankees spoil Mattingly's return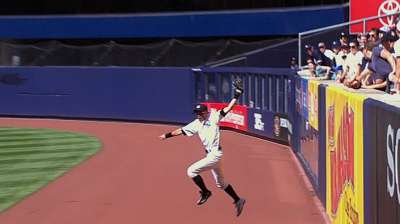 NEW YORK -- Don Mattingly's first game back at Yankee Stadium was hardly the most exciting part of the first half of a split doubleheader Wednesday.
Yankees right fielder Ichiro Suzuki hit a home run, drove in three runs and robbed an extra-base hit with a leaping catch on the warning track in the eighth. Dodgers designated hitter Hanley Ramirez went 4-for-4 with a home run and two RBIs, and reliever Ronald Belisaro made a fielding and a throwing error on the same play in the seventh.
When the dust finally settled, though, it was the Yankees who came out on top. New York spoiled Donnie Baseball's return to the Bronx, fending off Los Angeles, 6-4, in Game 1 of the day-night doubleheader.
Suzuki provided the biggest spark for the Yankees, blasting a solo shot into the right-field seats in the sixth inning and hitting a two-out bases-loaded single to score two more runs in the seventh. The right fielder also scored a run in the second inning, finishing the afternoon 3-for-4 at the plate.
"I haven't changed anything," Suzuki said through a translator. "I haven't done anything different. To be honest, I just closed my eyes and swung."
After playing four years with the Dodgers from 2008-11, Hiroki Kuroda made his first start against his former ballclub on Wednesday. The veteran right-hander lasted 6 2/3 innings against the Dodgers, allowing two runs on eight hits while striking out two and walking one.
"I don't really put too much thought on [facing the Dodgers]," Kuroda said through a translator. "Just make sure when I was on the mound [to] just keep focused on the hitter, which I think I was able to do."
"I thought he threw the ball well today. He really did," manager Joe Girardi said. "It's not a lot of his [former] teammates, but I'm sure, with the matchup today, he probably felt a little bit of something. But he pitched extremely well."
Dodgers starter Hyun-Jin Ryu took the loss after giving up three runs on five hits with four strikeouts and two walks over six innings.
First baseman Lyle Overbay drove in the Yankees' first two runs with a double to the center-field wall in the second inning, and Suzuki's home run gave the team a 3-0 lead through six innings.
Los Angeles nearly tied the game in the seventh inning, but it wasn't able to complete its comeback. Catcher A.J. Ellis hit a bases-loaded sacrifice fly with one out for the Dodgers' first run, and Jerry Hairston hit a pinch-hit RBI single to knock Kuroda out of the game, cutting the Yankees' lead to one.
The Yankees got those runs back in the seventh inning. Belisaro let a soft popup that left fielder Vernon Wells hit drop in front of him, then fumbled the ball and threw it into center field trying to get Robinson Cano out, allowing shortstop Jayson Nix to score. One batter later, Suzuki's two-run single gave the Yankees a 6-2 lead.
"I've never seen that play work when you let it bounce -- ever," Mattingly told reporters outside the clubhouse. "It's just a mistake, a bad time for it. You bring him in to get a ground ball. You've got to get an out, got to catch the ball."
Ramirez hit a two-run home run off Yankees reliever Preston Claiborne in the eighth inning, but New York's bullpen closed the door after that. Closer Mariano Rivera capped off his 25th save by striking out Dodgers rookie sensation Yasiel Puig.
"It's always nice to see that," Overbay said. "Those are the things you pay to see."
The Yankees and Dodgers will play the second half of their doubleheader at 7:05 p.m. ET, when Phil Hughes will take on Chris Capuano. Newly named Brooklyn Nets head coach Jason Kidd will throw out the first pitch.
Josh Vitale is an associate reporter for MLB.com. This story was not subject to the approval of Major League Baseball or its clubs.