Salty puts in long night behind home plate
Salty puts in long night behind home plate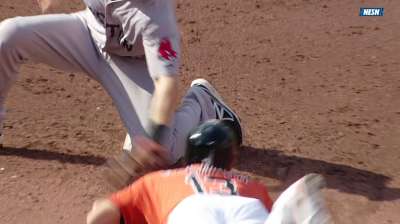 BOSTON -- Jarrod Saltalamacchia had a historically long day at the ballpark.
He caught both games of the doubleheader against the Rays on Tuesday, becoming the first Red Sox player to catch both games of a doubleheader since John Marzano did it in 1992.
Still basking in the Red Sox's 3-1 walk-off win, Saltalamacchia insisted his marathon day wasn't a big deal.
"It was fine," Saltalamacchia said. "I want to play every time out. You know, I felt good. We had a little rain delay obviously, but [Alfredo Aceves] was throwing the ball well and the guys came in after him and we had a comfortable lead, so it wasn't too bad. ... I feel fine."
There was a two-hour, 59-minute rain delay in the middle of the first game, but the Red Sox won the game, 5-1.
Saltalamacchia went 0-for-6 over the two games with a walk.
He was forced into action for the second contest when catcher David Ross was placed on the seven-day concussion disabled list between games. The Red Sox couldn't get Triple-A catcher Ryan Lavarnway to Boston in time.
"We couldn't get a catcher here in time for the second game, so Salty was back there again tonight," manager John Farrell said. "Once again, a very good job calling the game, handling [Felix] Doubront tonight against their lineup, but that's where we are right now with Lavarnway in Ross' place."
Michael Periatt is an associate reporter for MLB.com. Follow him on Twitter @Michael Periatt. This story was not subject to the approval of Major League Baseball or its clubs.