Power rally not enough to extend win streak
Power rally not enough to extend win streak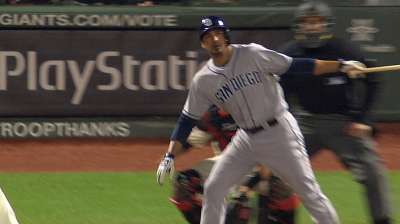 SAN FRANCISCO -- Disappointed but not disenchanted, Chase Headley sat in front of his locker Tuesday night and talked about the one that got away.
The game: The Giants scoring twice in the eighth inning for a 5-4 victory over the Padres before a crowd of 41,884 at AT&T Park.
The streak: Seven consecutive victories, vanquished when the Padres couldn't get the last five outs of the game, as the Giants rallied in what qualified as a wild, topsy-turvy finish.
"Sometimes you just don't win," said Headley, the Padres third baseman.
But, Headley said, sometimes there's an upshot to that, especially when the Padres are in the middle of a blissful run like the one they've been on.
"At least we're not beating ourselves," Headley continued. "It's been great baseball, even tonight. You want to win them all, but guys keep playing."
The Padres (36-35) did that Tuesday even as they fell behind 2-0 to Matt Cain, who set down 15 hitters consecutively at one point. They did it again later in the game when pinch-hitter Jesus Guzman drilled a two-run home run in the eighth for a fleeting 4-3 lead.
"We kept battling," Headley said.
In the end, though Brandon Belt's RBI double in the eighth inning that tied the game and Juan Perez's run-scoring single off reliever Dale Thayer (0-3) later in the inning proved too much to overcome.
"That was a great baseball game," said Padres manager Bud Black.
The Padres looked to be in good shape in the top of the eighth inning when Guzman got a hold of a pitch from Giants reliever Jeremy Affeldt with a man on base, sending it over the wall in center field.
But the Giants (36-34) came back with two runs in the bottom of the inning, as Buster Posey singled to start the inning. Perez's single to right field gave them a 5-4 lead they wouldn't relinquish.
The Giants were cruising along Tuesday with Cain looking dominant, as he retired 15 consecutive hitters after allowing a single to Logan Forsythe to start the game.
"Cain had probably more than we've seen in a long time, a wide assortment of pitches," Black said. "He was really mixing his pitches and we couldn't solve him. Then he left some pitches up [for home runs], and we put a little stress on him."
Leading 2-0, Cain yielded a home run to Nick Hundley to start the sixth inning. Two batters later, it was Forsythe who added a solo home run of his own.
The Padres looked like they might take the lead in the seventh as Mark Kotsay doubled to lead off the inning. But he was cut down at the plate on a throw home by Perez after Chris Denorfia singled to center field.
Cain allowed the two runs on six hits in seven innings. He didn't walk a batter and had 10 strikeouts in a no-decision.
The Giants jumped out to a 2-0 lead early against Padres pitcher Andrew Cashner. They scored a run in the first inning on an RBI single by Posey. In the fourth inning, a run scored when Joaquin Arias hit into a double play, which allowed Belt to score.
Cashner allowed three runs on 10 hits with one walk and six strikeouts in 6 2/3 innings. The third run came with two outs in the seventh when he allowed an RBI single to Gregor Blanco. That hit gave the Giants a 3-2 lead.
"Late in the game, I didn't want to get beat on something soft," Cashner said. "I wanted to go at him hard."
The Padres success of late has been built on victories over good teams -- as they swept the Braves and the D-backs and took the first game of this series from the Giants.
Remarkably, the Padres have done so with three starters from Opening Day -- second baseman Jedd Gyorko, center fielder Cameron Maybin and first baseman Yonder Alonso -- on the disabled list. Then add the fact that left fielder Carlos Quentin has missed the past four games with a sore left shoulder.
Then there's shortstop Everth Cabrera, the National League leader in steals (31), who sat out his second game in as many days with a mild strain of his left hamstring. Black said late Tuesday night that Cabrera will likely go on the disabled list on Wednesday.
Throughout it all, the Padres kept winning.
"It shows that our guys can play with good teams," Black said. "We're not a club that gets a lot of national acclaim. But we're playing well."
Corey Brock is a reporter for MLB.com. Keep track of @FollowThePadres on Twitter. This story was not subject to the approval of Major League Baseball or its clubs.