Francis roughed up as Rockies' offense goes quiet
Francis roughed up as Rockies' offense goes quiet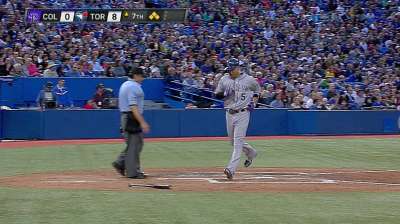 TORONTO -- On the night that Rockies manager Walt Weiss announced that veteran star Roy Oswalt would be joining the starting rotation, veteran lefty Jeff Francis placed himself in danger of having to say goodbye.
Francis gave up eight runs -- four during a rough first inning -- and served up three home runs in six innings as the Blue Jays won their seventh straight, 8-3, at Rogers Centre on Tuesday night.
Meanwhile, Jays pitcher and former Rockies righty Esmil Rogers, who showed flashes with the Rockies (2009-12) but was 1-4 with an 8.15 ERA in 38 career appearances at Coors Field, didn't give up a hit for the first 5 1/3 innings. Rogers held the Rockies to three runs, two earned, and four hits while striking out five in 6 2/3 innings.
Like Jorge De La Rosa when he gave up one run in seven innings of Monday night's 2-0 loss, Francis (2-5) wanted to prey on the sizzling Jays' aggressiveness. But Francis' offspeed pitches were juicy, and by the time he left the mound his ERA was 6.58. The performance was nothing like his previous outing, when he held the Nationals to two runs and five hits in six innings but didn't figure in the decision.
The Rockies entered Tuesday a half a game behind the National League West-leading D-backs. To stay there, they'll need better starting pitching.
"I didn't execute the pitches," Francis said. "When you leave them up like that to those guys, they're going to make you pay. They got me early."
Now the question is whether Francis, one of the most accomplished pitchers in Rockies history over his two tours with the club (2004-10 and 2012-13), will have a chance to turn it around.
When Weiss announced before the game that Oswalt would be starting Thursday at Washington, he said it was unlikely that the Rockies would be going with six starters temporarily. The announcement immediately placed speculation of the futures of Francis and Juan Nicasio, who will pitch Wednesday and has had consistency issues the deeper he gets into games. Weiss didn't speculate on what the move would be.
The speculation about his future, which has hung in the air since Oswalt joined the Rockies on a Minor League contract on June 3, hasn't been foremost on Francis' mind.
"Not when I'm out on the mound," said Francis, who ranks second in Rockies history with 61 wins -- the high point being 2007, when he won 17 games in the regular season, two in the postseason and started Game 1 of the World Series. "Those are things you deal with as they come, things out of my control. I prepare myself to go out on the mound and pitch.
"You try to keep your mind on your next outing, what you have to do, adjustments you have to make, the team you have to face. I wouldn't say it's hard to keep that off to the side and concentrate on what's more important."
Francis, a Canadian who lives nearby in London, Ontario, was hoping to make his statement. Instead, he was hit hard in the first inning to the tune of four runs on six hits, including doubles by Edwin Encarnacion, Mark DeRosa and J.P. Arencibia.
"It was more location, some balls up and in the middle of the plate," Weiss said. "They've got some good hitters in that lineup.
"With most of these guys it comes down to location. Some guys with the huge arms have some margin for error, but in the end it's all about where you throw the pitch."
The next three innings were much better, before Francis gave up Encarnacion's 19th homer of the season for two runs in the fifth, and homers to Arencibia and Maicer Izturis in the sixth.
Meanwhile, Rogers, whom the Rockies traded to the Indians last season, bordered on dazzling, and has been that way all season, through 23 relief appearances and now four starts.
He said the confidence Jays manager John Gibbons and pitching coach Pete Walker "give to me right now is unbelievable. ... The confidence when I'm the mound, I didn't have it in Colorado, I'm not going to lie to you. I have unbelievable confidence right now. I can throw any pitch in any count whenever I want."
In the second, Wilin Rosario reached on an error and Todd Helton walked with one out, but Rogers worked Nolan Arenado into a double-play grounder. Rogers continued baffling the Rockies until Jonathan Herrera's one-out single in the sixth.
The Rockies strung together a Carlos Gonzalez double, a Michael Cuddyer single (to run his hit streak to a career-high 16 games) and a Rosario RBI single to begin a three-run inning. Rogers left after Arenado's fielder's choice. An unearned run scored with Jays reliever Aaron Loop in the game when DeRosa let Tyler Colvin's grounder bounce past him.
The two-seam fastball Rogers has developed allowed him to keep pitches low -- something he couldn't do consistently in purple pinstripes.
"I think he was trying when he was with us in Denver," Herrera said. "Then he left. He got it right away when he left us. … 'Oh, I got it now.' He was really good."
Thomas Harding is a reporter for MLB.com. Read his blog, Hardball in the Rockies, and follow him on Twitter @harding_at_mlb. This story was not subject to the approval of Major League Baseball or its clubs.