A's roll in Texas behind dealing Parker
A's roll in Texas behind dealing Parker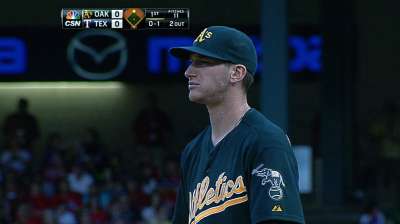 ARLINGTON -- The offensive binge continued for the A's on Tuesday off one of the best pitchers in the American League this season, as Oakland got to Yu Darvish early and often en route to a 6-2 win over the Rangers in Arlington.
Yu Darvish received the loss, allowing five runs (four earned) on six hits in six innings. He struck out 10 and walked two on 109 pitches. Darvish has three of his four career losses at Rangers Ballpark against the A's.
"When you have some success, it breeds that kind of confidence sometimes," A's manager Bob Melvin said. "You know going in that it's going to be a difficult matchup, and you've got to be at your best, focus and take advantage of opportunities when they're there."
The A's collected two home runs off Darvish. Brandon Moss hit a shot to lead off the second and give the A's the early lead. It was his sixth home run in the last 13 games. The A's are 11-0 when Moss hits a home run.
"I just went out there to be aggressive," Moss said. "He's going to get his strikeouts. He's going to throw whatever he wants, whenever he wants. There's no way to predict what he's going to throw. ... Anything I thought was over the plate, I was going to hit."
Eric Sogard made it 2-0 when he knocked in a run on a single later in the inning. John Jaso hit the second home run off Darvish to lead off the third. Darvish had not allowed a home run in June prior to Tuesday's contest. The A's have 22 long balls this month.
Jarrod Parker surrendered two runs in the third, but that was all the Rangers could score off the A's starting pitcher. A.J. Pierzynski brought in both runs on a two-run single. He was eventually thrown out attempting to take third on a wild pitch.
Parker maintained his composure with a shutdown fourth inning. He ended his outing retiring 12 of his last 14 batters faced. David Murphy reached on a fielding error by Jed Lowrie in the fourth, but Parker got Craig Gentry to pop out to end the inning. Gentry was hit by a pitch in the seventh, but Parker worked out of the inning by forcing Leonys Martin to ground out.
"My changeup was pretty good tonight," Parker said. "I think I found it in the last game. It's starting to come back to where I can throw it for a strike or put it down in the zone for a punchout."
"He just finds a way to throw the right pitch at the right time," said Texas designated hitter Nelson Cruz, who went 0-for-3 with a walk and a strikeout. "Early in the game, he was throwing his fastball, and later in the game, he was throwing his breaking ball, changeup and slider. He was dealing."
With the win, Parker moved to 6-6 on the season. He allowed two runs on three hits in seven innings. He struck out four and walked two on 91 pitches, not allowing a hit after the third. He has received at least four runs of support in five of his six wins. Parker is now 3-0 with a 1.91 ERA in four June starts.
"It's not a routine [that] I want to give up two runs every time," Parker said. "It's something that I want to continue to work and get better to limit those kinds of situations. Any time we're swinging the bats like we were tonight and manufacturing runs, I just want to get them to the dugout. For me to just get them to put the ball in play and stay ahead of guys and keep them on their toes, it makes the game flow and we're playing our game."
The A's brought in two more runs off Darvish in the fourth. Josh Donaldson and Seth Smith started the inning with a single and a double. Donaldson scored on a wild pitch from Darvish and Smith advanced to third. Eric Sogard reached first on an error by first baseman Lance Berkman, scoring Smith to make it 5-2.
The A's picked up an insurance run in the eighth. Moss collected a leadoff triple and scored on a sacrifice fly from Donaldson. The A's have scored 23 runs on 32 hits in their last three games. They've won two of those three.
"It was again really good," Melvin said. "[Darvish is] going to strike some guys out, because he's got great stuff. If you can square a couple balls up, situationally hit well -- we did that well tonight."
Master Tesfatsion is an associate reporter for MLB.com. This story was not subject to the approval of Major League Baseball or its clubs.