Scutaro back in action with splint on pinkie
Scutaro back in action with splint on pinkie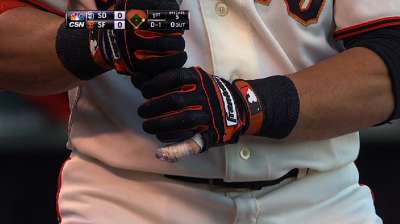 SAN FRANCISCO -- Marco Scutaro said he didn't feel any discomfort in his left pinkie during his first game back Tuesday -- except for the change in grip, that is.
Scutaro, who missed six games after he suffered an injury to the tendon in his pinkie that prevents it from straightening, will wear a splint for the next four to six weeks to try and fix the issue. When he grips the bat with the splint on, he said he has to lift his finger so that it is not touching the bat.
"It was fine," Scutaro said of his ability to play with the splint Tuesday. "I'm just making some adjustments.".
Scutaro went 2-for-4 at the plate with a pair of infield singles and made a diving play in the first inning at second base.
"I have to [play through it]," he said. "There's not much you can do here for the tendon. You just have to hang with it."
Giants manager Bruce Bochy said the team will evaluate the pinkie Wednesday before deciding on Scutaro's availability, but the second baseman said he fully expects to be able to start.
Andrew Owens is an associate reporter for MLB.com. Follow him on Twitter @OwensAndrew. Chris Haft is a reporter for MLB.com. This story was not subject to the approval of Major League Baseball or its clubs.