Darvish fans 10, but bitten by homers vs. A's
Darvish fans 10, but bitten by homers vs. A's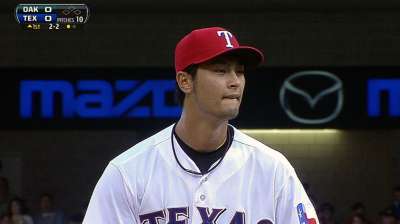 ARLINGTON -- This was not about a lack of run support from the offense. This was simply a case of one starting pitcher being better than the other.
This was about the Rangers' starting pitcher not being at his best, and this is supposedly the Rangers' best starting pitcher.
Yu Darvish has not earned a victory in over a month, and he didn't deserve one on Tuesday night, allowing five runs (four earned) in six innings in a 6-2 loss to the Athletics at the Ballpark in Arlington. Athletics starter Jarrod Parker held the Rangers to two runs in seven innings, dropping Texas to three games out of first place in the American League West.
"Tonight, Yu didn't pitch badly, but Parker was better," Rangers manager Ron Washington said.
That has often been the case between these two teams. Parker is now 4-1 with a 2.91 ERA in five career starts against the Rangers, while Darvish is 1-4 with a 4.21 ERA in his starts against Oakland.
The five runs marked the most Darvish has given up this season and the most since giving up six to the Red Sox on Aug 6, 2012. He allowed six hits, but two of them were home runs by Brandon Moss and John Jaso that helped give the Athletics a 3-0 lead by the top of the third inning.
The Rangers scored two in the bottom of the third against Parker. But the Athletics came back with two in the top of the fourth to make it 5-2.
"I didn't feel I pitched badly, but I gave up runs too easily," Darvish said.
Darvish, who walked two and struck out 10, is now 0-2 with 2.66 ERA in his last six starts. The Rangers have lost five of those six games after going 8-1 in Darvish's first nine starts.
Rangers second baseman Ian Kinsler also had a rough night, needing three stitches to close a cut on the left side of his chin after the bottom of the third inning. As Kinsler scored from second on A.J. Pierzynski's two-run single in the third, he slid hard into Jaso, the A's catcher, and knocked the ball loose. He also cut his chin on Jaso's mask.
"He was cut pretty bad," Washington said. "It was a freak thing that happened."
Kinsler ran off the field with blood splattered on his uniform and received the three stitches from team doctor Keith Meister between innings to close the wound. Meister also checked Kinsler for concussion symptoms before clearing him to play. The start of the fourth was delayed for about three minutes while Kinsler was getting checked out.
"We had trainers relaying a message to the umpires that I was trying to get back in the game," Kinsler said.
Moss gave the Athletics a 1-0 lead in the top of the second by hitting an 0-1 fastball into the right-field seats. The Athletics added another run with two outs when Josh Reddick singled, stole second and scored on a single by Eric Sogard. Jaso's home run led off the top of the third and also came on an 0-1 fastball.
"In my mind, there are no mistake pitches," Darvish said. "I have conviction in all my pitches. They scored off really good pitches."
"He's really good," Moss said. "He's one of those guys where we might have success against him, but it doesn't feel like we really do."
Pierzynski's one-out single in the third cut the Athletics' lead to 3-2, but the Rangers missed a chance to tie. Pierzynski went to second on the throw to the plate, and then with Adrian Beltre batting, Parker threw a pitch that got past Jaso. But the ball ricocheted hard off the backstop and Jaso was able to throw out Pierzynski at third.
That cut short the rally, and Darvish didn't give the Rangers another chance to close the gap in a one-run game. Instead, he got into trouble in the fourth when Josh Donaldson led off with a single and Seth Smith doubled to left, putting runners on second and third. One run scored on a wild pitch and another when first baseman Lance Berkman, playing in to cut off the run, fumbled Sogard's grounder for an error.
"[The Athletics] fought for their at-bats," Washington said. "They battled. If they got a pitch they liked, they didn't miss it. That's it right there. Parker moved his fastball around and had a good changeup. But he made some mistakes with some pitches, and we missed them."
The Rangers didn't get a hit after the third inning. Athletics pitchers retired 19 of their last 21 batters faced, with the only two batters reaching on an error and a hit by pitch. The Rangers finished with just three singles, tying their season low for hits in a game.
T.R. Sullivan is a reporter for MLB.com. Read his blog, Postcards from Elysian Fields, and follow him on Twitter @Sullivan_Ranger. This story was not subject to the approval of Major League Baseball or its clubs.