Hit batters bother Latos more than snapping streak
Hit batters bother Latos more than snapping streak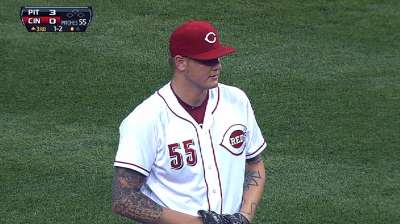 CINCINNATI -- Mat Latos' personal unbeaten streak came to an end Tuesday night against the Pirates, but that wasn't what drew the ire of the Reds' starting pitcher.
The Reds lost a 4-0 game to Pittsburgh, but the tally Latos focused on was the hit batters between the two clubs this season. In that battle, the Pirates have a 10-6 lead, which includes Shin-Soo Choo being hit six times alone.
Choo was hit in the leg on Pirates starter Charlie Morton's first pitch of the night, and Latos could be seen on the top step of the Reds' dugout, yelling his displeasure.
"I think it's time that somebody steps up and starts disciplining the team that's drilled the most guys in the league," Latos said after the game. "They've hit a lot of guys, whether it's intentional or it's by accident. Something has got to be done about it."
Two batters after Choo took his league-leading 19th pitch off his body, Morton moved Joey Votto back with a fastball that was up and in.
Pirates pitchers lead the Majors with 37 hit batters this season. Latos admitted to being fined by Major League Baseball for hitting Neil Walker with a pitch on June 2 in Pittsburgh. That pitch was likely in response to Brandon Phillips being knocked out of a game with a bruised left forearm by a Tony Watson pitch a night earlier.
"Whether I got fined for accidentally hitting Neil Walker or I got fined for hitting him on purpose to protect my own teammates … I can't control the game or how they get disciplined, but something needs to come out of that," Latos said.
Morton hit Choo on Tuesday one night after Walker was brushed back by an Aroldis Chapman 100-mph fastball under the chin. No warnings appeared to be issued to the benches. Pirates manager Clint Hurdle denied it was a purpose pitch.
"You throw out a term 'beanball,' I don't go there. It's competitive baseball," Hurdle said.
By the time Choo was hit by the pitch, the Reds already faced a 3-0 deficit. How that happened also rankled Latos.
"I got aggravated with myself. I didn't feel too well in the bullpen," Latos said. "I kind of took it into the first inning. I beat myself today."
Starling Marte led off the game with a triple to right-center field and scored on Russell Martin's infield single to shortstop Zack Cozart. Martin stole second base on a close play where he twice eluded the tag from Cozart. As the replay was inconclusive, manager Dusty Baker argued with umpire Paul Emmel to no avail.
"He was all over the place," Baker said of Latos. "There were a couple of hustle plays on their end. That was big and sort of set the stage. The triple and the trick slide that Martin had -- it looked like he got a little out of sorts after that."
With one out in the first, Latos dueled Garrett Jones for 10 pitches, but lost him to a walk. A Walker free pass followed to load the bases. Pedro Alvarez's single off the left-field wall scored two more runs and quickly made it a 3-0 game. Latos needed 32 pitches to get through the first.
After the activity in the bottom of the first inning, Latos did not seek retribution. Instead, he got revenge by dominating the next four innings.
"It definitely lit a fire under me, that's for sure," Latos said. "In the back of my mind, I don't want to retaliate and get slapped with another weak fine for that kind of crap."
Following the first, he retired 12 of 13 batters -- including eight strikeouts -- without giving up another hit. He was lifted for pinch-hitter Jack Hannahan in the fifth, when the Reds had runners on second and third with two out. Hannahan grounded out to end the inning.
In his five innings, Latos allowed three runs and three hits with three walks and nine strikeouts.
Morton and the Pittsburgh bullpen did their part to make Latos' efforts too little, too late. Morton pitched 5 1/3 innings and did not allow his first hit until Votto's two-out single in the fourth inning.
In the sixth, Morton gave up a leadoff single to Choo, but Choo was caught stealing second base. Cozart struck out, but reached on a wild pitch as Morton's final batter. The lefty Watson faced Votto, who hit a double toward the left-field corner. The rally died when Phillips chased an outside pitch and struck out, and Jay Bruce hit a broken-bat bouncer to the mound.
In the Pirates' seventh, Marte's two-out single up the middle against reliever Curtis Partch scored Jordy Mercer to give the Pirates a four-run lead.
The Reds' pitching staff combined for 17 strikeouts, tying a franchise record for a nine-inning game. Yet, it still went for a loss.
"I don't know if I've ever seen that," Baker said.
Latos entered the night 10-0 with a 2.80 ERA in his last 21 regular-season starts and hadn't lost a game since Aug. 24 against the Cardinals. This season, he is 6-1 with a 3.20 ERA.
"Winning a ballgame is the only thing that matters," Latos said. "I don't care whether I get the 'W' or if Chapman gets it. I don't care if they bring [catcher] Corky Miller up from Triple-A to pitch the 10th inning if he gets a 'W.' I care about team wins. Would it be nice for me to get the win? Of course it is. If I can't get a 'W,' the best thing that can happen next is one of the bullpen guys gets it."
Mark Sheldon is a reporter for MLB.com. Read his blog, Mark My Word, and follow him on Twitter @m_sheldon. This story was not subject to the approval of Major League Baseball or its clubs.