Early runs help Morton, Bucs finally top Latos
Early runs help Morton, Bucs finally top Latos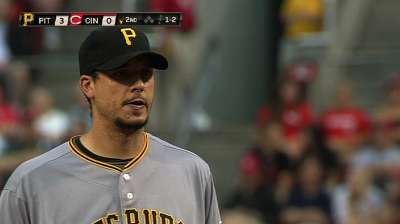 CINCINNATI -- Pirates manger Clint Hurdle had a feeling Reds starter Mat Latos was due for a loss. A dominant performance from Charlie Morton and a big first inning from the Pirates' offense turned Hurdle's feeling into reality, as Pittsburgh beat Cincinnati, 4-0, on Tuesday at Great American Ball Park.
Entering the game, Latos was 10-0 in his last 21 starts. He suffered five blown saves during his unbeaten streak, including two against the Pirates this season.
In the second leg of a four-game series, Morton out-pitched Latos, handing the Reds starter his first loss since Aug. 24. Morton, in his second start following Tommy John surgery last year, didn't surrender a run through 5 1/3 innings, allowing just three hits while striking out two.
"He was effective," Hurdle said of his starter. "The balls that were stung were right at people. For him, second time back in the Major Leagues after a year, go through five innings, get into the sixth inning against those guys, we were way good with that and we'll move on from there."
Despite the surgery, Morton's velocity has not only come back, his arm has gotten stronger. Although Hurdle called it a "phenomenon," he said it's not a new one, as other pitchers have come back with a higher velocity after Tommy John surgery.
Morton said there's a simple explanation to him returning fresher and stronger.
"I didn't play baseball," Morton said. "I threw, but I wasn't out there pitching competitively for a year. That's one of the things, guys that bounce back better, they'll tell you it's rest and strengthening. We're in there a lot doing a lot of strength work. It doesn't necessarily surprise me."
He carried a no-hitter into the fourth before giving up a single to Joey Votto with two out. Morton's only baserunner to that point was Shin-Shoo Choo, whom he hit on his first pitch of the night after much of the talk before the game regarded Reds closer Aroldis Chapman's 100-mph fastball that just missed Neil Walker's chin on Monday.
Morton and Hurdle both said the righty simply missed inside against Choo, who has been hit six times by the Pirates this season.
"It's competitive baseball," Hurdle said. "You've got to do certain things to win, and when two teams are focused on winning and neither one wants to blink and they want to play hard, and you want to compete, you push the envelope a lot of different places. Not just at the plate trying to get balls in on people, but breaking up double plays and doing everything."
Latos saw it differently.
"You have a team that's drilling people, and they've hit us over and over and over again," Latos said. "Something has to be done. The league needs to step in and say something and end it, instead of fining them for drilling people. It definitely lit a fire under me, that's for sure."
Instead of retaliating, Latos retired 12 of the 13 batters he faced after Choo was hit. Fortunately for the Pirates, they had already gotten to him in the first inning.
Starling Marte led off the game with a triple, and thanks to a Russell Martin single, scored just two pitches later.
After an Andrew McCutchen strikeout and a pair of walks, the scoring continued on a Pedro Alvarez single that brought home Martin and Garrett Jones. The three-run first gave Pittsburgh an early advantage, but it also forced Latos to use 32 pitches and helped limit him to only five innings.
"He sprayed the ball in the first inning like I've never seen him spray the ball," Hurdle said of Latos. "To go 30 pitches, he wasn't able to make a pitch. And then the second time around, he threw a 94-mph fastball to Martin down and away, and every pitch after that until he left the game was back to what we've kind of seen from him for quite some time. We got to him when he wasn't locating."
The game was scoreless from that point until Pittsburgh added an insurance run in the seventh on a Marte single. Tony Watson, after escaping a situation with one out and runners on second and third in the sixth, pitched a clean seventh before Jason Grilli closed out the game in a non-save situation.
With the win, the Pirates (42-29) got back to one-half game behind the Reds for second place in the National League Central, as both teams chase the division-leading Cardinals.
"We've got to beat these guys," Hurdle said. "And we've got to beat the Cardinals to get where we want to go."
Jeremy Warnemuende is an associate reporter for MLB.com. This story was not subject to the approval of Major League Baseball or its clubs.