Hechavarria doing work with the glove at short
Hechavarria doing work with the glove at short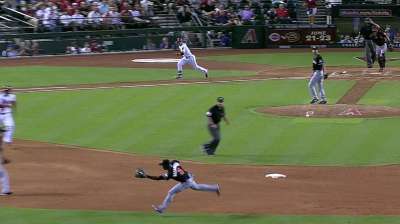 PHOENIX -- Batting only .214 this season, Marlins shortstop Adeiny Hechavarria hasn't been a standout in the club's lineup in 2013. But that hasn't stopped him from making his impact felt in the field.
Entering Tuesday's 3-2 loss to the D-backs, Hechavarria was tied for third in the Majors among shortstops (with the Cardinals' Pete Kozma) in fielding percentage at .990, trailing only Colorado's Troy Tulowitzki and Boston's Stephen Drew.
"No matter what he hits, his defense is important us. We all know his bat is a work in progress, but you see glimpses of how good this kid is going to be when his bat comes along," Marlins manager Mike Redmond said. "He's been a solid defender out there for us. Not a lot of people talk about how consistent and good he has been for us all year."
Hechavarria's fielding prowess was on display in Monday's 3-2 win at Chase Field when made two stellar plays in the first two innings, one snagging a short hop off a line drive, and the other ranging up the middle and throwing out the speedy Gerardo Parra to save a run.
"He has a lot of weapons," Redmond said. "To see his range and to see how easy he gets the ball and makes good throws, it's great. I'm happy with his effort, he is fun to watch."
The 24-year-old went 2-for-3 with an RBI single on Tuesday, but he also made a crucial base running error in the seventh, getting thrown out at third after trying to stretch a leadoff double into a triple.
"A little too aggressive for the situation," Redmond said of the play.
Tyler Emerick is an associate reporter for MLB.com. This story was not subject to the approval of Major League Baseball or its clubs.