On hitting, Ventura urges Viciedo to be patient
On hitting, Ventura urges Viciedo to be patient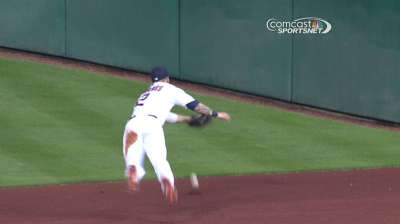 MINNEAPOLIS -- The White Sox quick turnaround from a series finale Monday in Houston to Tuesday's series opener at Target Field was made a little sweeter as Dayan Viciedo hit a three-run triple in the sixth inning Monday, which led to a 4-2 victory against the Astros.
The young left fielder has been inconsistent of late and is just 6-for-36 in his last 10 games. But the big triple Monday coupled with a triple Sunday was reassuring for the 24-year-old.
"It's always good team-wise when you get a big hit, but that one for him, I think, with how his last couple weeks have been going, it's a big one for him just to kind of get that going -- to do something meaningful," manager Robin Ventura said.
With Viciedo's .223 average and 37 hits in 166 at-bats, Ventura noted that working on hitting is difficult and that it is especially important to remind younger players that change isn't always immediate.
"I think with hitting, you have to be able to kind of stick with it, even though it might not be immediate feedback from one at-bat to another," Ventura said. "It's a process. Over the course of the year, you know what's best for him. He has to be able to buy into that. He has to be able to see that.
"You have to buy into in your mind to be able to succeed at it. That's part of being young and battling and getting through this all at the same time. It's easier said than done."
Ventura also said Viciedo has a high ceiling and time to grow.
"I think what you're looking at right now, that's not indicative of his talent," Ventura said. "Again, you just continue to understand he is young and it's getting better."
Kelly Erickson is an associate reporter for MLB.com. This story was not subject to the approval of Major League Baseball or its clubs.