Johnson hits game-tying homer, but Rays fall in ninth
Johnson hits game-tying homer, but Rays fall in ninth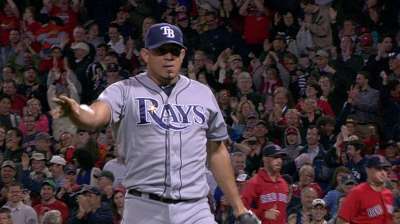 BOSTON -- The Rays got a rare gem from a starting pitcher and they hit a game-tying homer off the opponent's closer Tuesday night at Fenway.
But a dormant offense and an untimely pitching lapse from typically-steady reliever Joel Peralta left the Rays empty-handed as they fell to the Red Sox, 3-1, on a walk-off homer by former teammate Jonny Gomes.
After a long day of baseball that included a two-hour, 59-minute rain delay in the first portion of the day-night doubleheader, the Rays were swept while scoring two runs over 18 innings.
"We needed to pitch two shutouts today, pretty much, to get something done," manager Joe Maddon said. "We have to do better offensively. We've been all over the map this year. We did not hit when we pitched, then we hit when we did not pitch. We have to get everything firing on the same time on a more consistent basis. It's frustrating, because we have been better offensively and we should be better offensively. Regardless if it's a long day or night, we should've done better."
After Jake Odorizzi gave the Rays exactly what they needed, serving 5 2/3 innings of one-run ball, Tampa Bay entered the ninth inning down, 1-0.
Red Sox starter Felix Doubront, who had held the Rays scoreless on just three hits and 93 pitches over eight innings, was removed for closer Andrew Bailey in the ninth inning.
On the second pitch Bailey threw, Kelly Johnson launched his 11th homer of the season into the right-field bullpen to tie the game.
"Last time we saw him, he had walked a few guys, so that's in the back of my head, to try to be selectively aggressive," Johnson said. "Aggressive on the fastball, and that's what I got."
In the bottom of the ninth, Peralta entered to face Daniel Nava, whose solo shot accounted for the only Red Sox run to that point. One of the rare pitchers with reverse splits, the right-handed Peralta has typically been better against left-handed hitters, but he walked the switch-hitting Nava on five pitches to start the inning.
The next batter was the right-handed-hitting Gomes, who entered 4-for-8 off Peralta lifetime, including two home runs. Peralta tried throwing a first-pitch strike down and away, but instead left a fastball up and Gomes hammered it over the Green Monster for the walk-off win.
"I couldn't find the strike zone," said Peralta, who has allowed home runs in consecutive appearances, though he still has a 2.51 ERA on the season. "So I walked [Nava] and I was trying to get [Gomes] with a first-pitch strike down and away. But I missed the location. And most of the time when that happens, you pay for it -- and I did."
Top prospect Wil Myers, who went 0-for-4 in his Major League debut in the first game, collected his first hit with the Rays, smacking a single in his first at-bat. While he demolished left-handed pitching in Triple-A this season, that was all Myers could muster in three at-bats against Doubront.
The Rays' offense was nowhere to be found in this one.
Doubront never reached 20 pitches in an inning, working quickly and efficiently through the Rays' lineup, which entered the game ranked third in the Majors in run production against southpaws.
"Everything changes when you're throwing strikes," Doubront said. "Everything changes. You get in one position, and they have to swing. They have to swing at everything you throw because they're going to be out anyway."
With Alex Cobb out indefinitely, David Price still working his way back from a left triceps strain, Matt Moore out of sync, Chris Archer still trying to prove himself at the Major League level and Jeremy Hellickson having an uncharacteristically bad season, the Rays' starting pitching is hurting.
Odorizzi, 23, was a former first-round Draft pick by the Brewers who was first traded to the Royals in the deal that sent Zack Greinke to the Brewers, and he was then swapped along with Myers as part of the trade that sent James Shields to Kansas City. The 23-year-old has a career 3.26 ERA in 162 2/3 innings at the Triple-A level, and while he appears headed back to Durham for the time being, his productive outing was an encouraging sign.
"Obviously looking down the road, based on when David gets back and Cobber gets back -- we do have a need right now," Maddon said. "It was one outing. I thought it was great. I thought he executed his pitches well. It's just like when a young hitter might come up and get a couple hits, you don't get too excited too soon. It has to happen over a period of time, and I was very pleased with what he did tonight."
Tampa Bay has lost nine of its last 11 meetings with Boston, which extended its lead over the fourth-place Rays to seven games in the American League East.
Jason Mastrodonato is a reporter for MLB.com. Follow him on Twitter @jmastrodonato. This story was not subject to the approval of Major League Baseball or its clubs.