Blanton's gem overshadowed by Angels' cold bats
Blanton's gem overshadowed by Angels' cold bats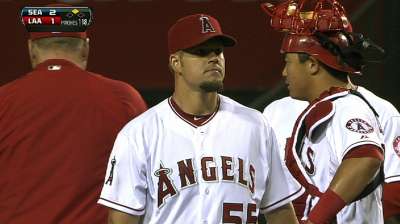 ANAHEIM -- Joe Blanton certainly has not pitched up to his capabilities this season, but the Angels right-hander has pitched well enough to have a few more wins to his name.
Tuesday night's matchup with the Mariners was another example, as Blanton turned in arguably his best start of the season but was stuck with a no-decision as the Angels fell, 3-2, in 10 innings at Angel Stadium.
Garrett Richards was called upon to start the 10th and retired the first two batters, but a Kyle Seager double and an RBI single from former Angels slugger Kendrys Morales gave the Mariners the run they were looking for.
Albert Pujols, who has 13 hits in his last 26 at-bats, tied the game with a home run to left field to lead off the eighth inning, but the Angels squandered an opportunity in the ninth and were shut down in the 10th.
"We didn't execute in a couple areas during the game," Angels manager Mike Scioscia said. "On the offensive side, guys in scoring position, we had trouble tonight, but we just didn't do enough things during the ballgame to kind of get a handle on it."
Blanton tied a career high with 11 strikeouts and limited the Mariners to six hits in 6 2/3 innings, but gave up a pair of homers while Jeremy Bonderman limited the Angels to Mark Trumbo's solo homer in the second inning, his 11th career home run against the Mariners -- more than he has against any other opponent.
"Just tried to throw quality strikes," Blanton said. "After those two homers, backed it down and tried to locate a little better."
While Blanton -- who had not pitched in over a week and spent the time making mechanical adjustments with pitching coach Mike Butcher -- lowered his ERA from 5.87 to 5.62, the Angels couldn't rise to his aid.
The Angels had hit .370 with 36 runs scored in their past five games, but instead of building upon Monday's 21 hits, they were held to eight. In addition, Josh Hamilton grounded into three double plays, giving the Angels 75 on the season -- most in the Majors.
"That's a tough night for Josh, but nobody feels it more than Josh," Scioscia said. "Right now, he's struggling with some things, had a tough night tonight."
Just as the one run game was nothing new to the Angels -- they have played a Major League-leading 26 (10-16) one-run contests -- the tough-luck loss was familiar to Blanton.
Blanton has turned in seven quality starts this season, only one of them resulting in a victory. In the six other games, the Angels were shut out three times and scored a combined four runs in the other three.
"You just go out and pitch," Blanton said. "You try to throw the best you can every time, you try to keep it close. As a starter, the runs are out of your hands. At the end of the day, you try to keep it right there so the lineup, with a big swing or two can win the ballgame. That's the goal when you go out there for a start."
The Mariners struggled against Blanton for the majority of the night, but Raul Ibanez led off the second inning with his 14th home run of the season. On the very next pitch, Justin Smoak gave the Mariners a 2-0 lead and back-to-back home runs.
"It was good," Smoak said. "Raul going deep right there, then I was sitting dead red on the first pitch and I got a fastball and was able to put a good swing on it."
The home runs were the 14th and 15th Blanton has allowed this season.
"That's in Joe's history -- the fact that there's a home run hit from being aggressive and challenging guys," Scioscia said. "It's a double-edged sword. He was really aggressive, it got him deep in the game, he had 11 strikeouts, but when you're that aggressive with fastballs, occasionally you're going to miss some spots, and unfortunately, he hit some barrels."
William Boor is an associate reporter for MLB.com. This story was not subject to the approval of Major League Baseball or its clubs.