Gomes caps long day with dramatic walk-off homer
Gomes caps long day with dramatic walk-off homer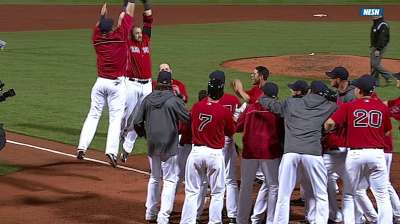 BOSTON -- Was it a drop kick or a punt that Jonny Gomes applied to his helmet in that euphoric moment on Tuesday night as he was about to cross the plate to finish off a walk-off home run in the bottom of the ninth inning?
Either one probably applies, but the one thing that's not debatable is this: The towering two-run shot off a sign that hangs beyond the Green Monster could not have come at a better time for the Red Sox and their struggling closer.
Gomes capped a long day and night of baseball at Fenway Park, lifting the Red Sox to a 3-1 victory to complete a day-night doubleheader sweep of the Rays.
Daniel Nava opened the winning rally with a walk. Gomes unloaded on the first pitch he saw against Joel Peralta to end it. Off the bat, the only question was whether it would stay fair.
It did, by several feet, and the Red Sox improved to 44-29.
"I guess bottom nine, no one out, leadoff walk, possible bunt situation, he picked over maybe seeing if I would square around to bunt, so I thought bunt was in their mind," Gomes said.
Instead of a bunt, Gomes opted for the blast -- one that gave the Red Sox their sixth walk-off win of the season.
"Fastball up," said Peralta. "Not supposed to be there, but it went there."
For Gomes, it was his third career walk-off homer, and first since April 8, 2010.
And you can be sure it was the first time he booted his helmet toward the mob of teammates who awaited him at the plate.
"Just kind of witty there at the end," said Gomes. "Walk-off home runs, I think anything can come in play."
In a somewhat surprising move, manager John Farrell inserted closer Andrew Bailey for the ninth, even though Felix Doubront had a 93-pitch shutout in progress, and a 1-0 lead.
Bailey suffered his third blown save when the second pitch he threw was ripped over the wall in right-center by Kelly Johnson to tie it up.
The right-hander has given up at least one run in three of his last four appearances.
Any explanation?
"Yeah, I'm throwing the ball down the middle," said Bailey. "I've just got to keep grinding through it and focus a little more. I'll get through it. I've been pitching in this league for a couple years now and had success. I've got to get back to doing that."
It was also fair to wonder why Farrell chose not to try to go the distance with Doubront.
"It's the deepest he's gone this year in the eight innings completed. Felt like he more than did his job tonight," said Farrell. "One run spread on the board, go to Bailey. Things didn't work out. Another fastball up and away, much like the pitch to [Matt] Wieters the other day. Jonny Gomes bails us out."
Bailey was thankful for that.
"I thought his punt was awesome," said Bailey. "That put a smile on my face, obviously. You don't want to go out there and give up runs, but there's a lot of positives about today. The way Doubront threw the baseball, eight strong, and obviously Nava's at-bat and Jonny's homer. There's a lot of good things about this team, and we just got to keep it on a roll."
Doubront had been building toward a performance like the one that he turned in, but that didn't make it any less gratifying once it happened.
The lefty pitched what was easily the best game of his career.
Doubront had never pitched more than seven innings in a start before this eight-inning gem in which he allowed three hits and no runs, walking none and striking out six.
"This game gives me more confidence," said Doubront. "I needed this. I needed this to get more confident, trust more in my pitches. I'll go the next game and try to do the same and stay in one page, this page. And stay like that. I'm going to get better results and win games and help the team to win."
The performance was Doubront's fifth quality start in his last six outings dating back to May 21.
Nava gave the Red Sox a big swing in the bottom of the second, ripping a solo homer into Boston's bullpen in right-center.
As slim as that 1-0 lead was, Doubront made it stand up during his brilliant performance.
Rays right-hander Jake Odorizzi also got into a groove for his team. Over 5 2/3 innings, Odorizzi gave up five hits and a run, walking none and striking out two.
The Red Sox won the first game, 5-1, waiting out a delay of two hours and 59 minutes.
By the end of the 18 innings, the whole day had become a most worthwhile endeavor for Boston.
"Thankfully we got the last momentum swing, an emotional swing, on our side," Farrell said. "[Gomes] bailed us out. Very timely, obviously."
Ian Browne is a reporter for MLB.com. Read his blog, Brownie Points, and follow him on Twitter @IanMBrowne. This story was not subject to the approval of Major League Baseball or its clubs.