Sox pull even in eighth, but fall to Twins in opener
Sox pull even in eighth, but fall to Twins in opener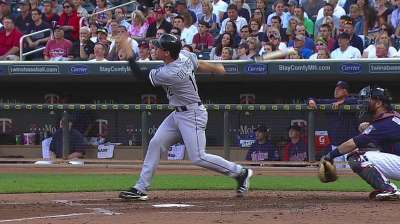 MINNEAPOLIS -- The offense wasn't difficult to find Tuesday night at Target Field as the White Sox and Twins combined for 12 runs on 24 hits.
But even after a late rally to tie the game, the White Sox lost to the Twins, 7-5, in the series opener.
"I think in all, it was a pretty evenly played game," designated hitter Paul Konerko said. "They obviously got off to a good start. But they had a mishap or two out there on the bases as well as a couple wild pitches that let us get some people in scoring position. If you broke it all down, it was pretty even, it was just the one hit there at the end that did it. Everything was even probably besides that."
Chicago tied the game at 5 in the eighth inning as Alex Rios scored on Konerko's fourth hit of the game, a single up the middle. Rios had walked to start the inning against right-handed reliever Jared Burton and moved to second on his 12th stolen base of the season.
But the White Sox clung to the tie for only a short time. In the bottom of the inning, right-hander Ramon Troncoso issued a two-out walk to Clete Thomas, followed by a single from Joe Mauer. Ryan Doumit came up with a double -- his third hit of the night in four at-bats -- to give the Twins a 7-5 lead.
"It was nice to be the guy who came up with the big hit," Doumit said. "Hats off to Clete and Joe for getting on base there. So it was a good team win."
In his first outing since a fog-delayed game June 10, Chicago righty Dylan Axelrod went six innings and gave up five runs (four earned) on 10 hits. He struck out five and walked two.
"I'll take the good parts away from it," Axelrod said. "I was disappointed I gave up that run in the sixth because it was a big run. I just felt like I could have been real happy with the outing if I got through that inning. As a whole, I'll just try to take the first inning out of it and focus on the last five innings and build off that next time."
Axelrod got off to a rocky start, giving up four runs on five hits and threw 35 pitches as Minnesota batted around in the first. Thomas led off the inning and reached on an error by second baseman Gordon Beckham. A few pitches later, Axelrod gave up a two-run home run to left field by Mauer. Five batters later, Trevor Plouffe hit a two-run single to score Josh Willingham, who reached on a single, and Justin Morneau, who had doubled.
"Their first inning is one that just ends up hurting you," manager Robin Ventura said. "Axelrod, after that, kind of calmed himself down and gets through it and gives us a chance with guys fighting back. It's just one of those you tip your hat to them."
After that first inning, Axelrod gave up one more run on five additional hits and recorded four strikeouts over his next five innings.
"It's a game of adjustments, so obviously what I was doing wasn't working out too good," Axelrod said. "I decided to throw inside a little bit more, keep them honest and it worked out."
Facing an early deficit, the Sox quickly cut the Twins' lead in half against Mike Pelfrey. In the second, Conor Gillaspie hit a two-run homer to right, scoring Konerko, who had singled down the right-field line.
Chicago got within one run in the fifth as Alejandro De Aza reached on a fielder's choice, scoring Gordon Beckham from third. Beckham had singled and advanced to third on a Tyler Flowers double one batter later.
The Twins extended their lead to 5-3 in the sixth as Pedro Florimon hit an RBI double to center, scoring Brian Dozier, who reached on a double and advanced to third on a wild pitch.
In the seventh, Dayan Viciedo led off with a base hit and moved to third on a combination of a base hit from Beckham and a fielding error in center field on the hit. Viciedo eventually scored as Flowers hit a sacrifice fly to center. With the tying run on third after two wild pitches from Twins right-hander Casey Fien -- who came in for Pelfrey after he put two runners on with no outs -- the White Sox couldn't get Flowers in to tie the game.
Pelfrey threw six-plus innings and gave up a season-high 10 hits. He allowed four runs and struck out three.
Kelly Erickson is an associate reporter for MLB.com. This story was not subject to the approval of Major League Baseball or its clubs.