Maxwell makes return to Astros in right field
Maxwell makes return to Astros in right field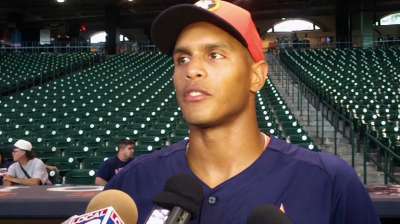 HOUSTON -- Outfielder Justin Maxwell made his return to the Astros Tuesday night, but he's got a new home after missing eight weeks with a fractured left hand.
Maxwell started in right field against the Brewers, a short ways from his former center field stomping grounds, where he was the Houston starter before his April 23 injury.
"I'm not disappointed at all about playing right," Maxwell said. "I played all three outfield positions last year, so it definitely helped. I got used to what you need everywhere."
A "Welcome Back" banner greeted Maxwell at his locker, courtesy of Brandon Barnes, his replacement in center. Maxwell said the two talked nearly every day, and there are no negative feelings about not getting the marquee spot back full-time.
"It's great, because Brandon and I definitely pride ourselves in playing great defense and doing it together if we can," Maxwell said. "I'll do everything I can in right field or wherever [Astros manager Bo Porter] puts me."
Porter said Barnes and Maxwell will likely split time at center field, but Maxwell will be an everyday starter, no matter what position he plays.
"I actually love the fact we have two center fielders playing in the outfield," Porter said. "If you look at the good outfields in baseball, you usually have two guys that cover a lot of ground. We have two guys that are more than capable of playing center field every day. Both will get playing time. There will be times Maxwell will see center and days we want Barnes there."
Maxwell said the injury to his hand healed fully and shouldn't be a lingering issue. If anything, Maxwell's rehab assignment was hampered more by stomach ailments and food poisoning than any hand issues.
"It feels good, about as good as it can be," Maxwell said of the hand. "It actually felt great since I went back to Florida [to rehab] on May 29. Since then, I've just slowly been getting my timing back. It's a good feeling to be back in the best ballpark in baseball, and I don't take it for granted."
Chris Abshire is an associate reporter for MLB.com. This story was not subject to the approval of Major League Baseball or its clubs.