Walker questions intent of Chapman's chin music
Walker questions intent of Chapman's chin music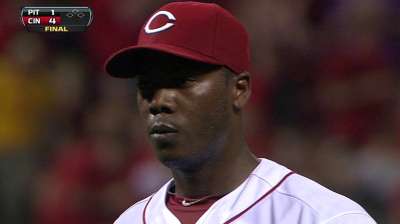 CINCINNATI -- In the ninth inning of Monday's 4-1 loss to the Reds, Neil Walker led off against Cincinnati closer Aroldis Chapman. With the count even at two balls and two strikes, Chapman buzzed a 100-mph fastball right past the chin of Walker, who barely evaded it and fell to his back.
Walker popped up and struck out swinging on the next pitch, and that was the end of it.
Except it's not that easy with these National League Central rivals.
"You try to give players the benefit of the doubt," Walker said Tuesday, asked about the intention of the pitch. "You would hope guys know what they're doing out there, but given the history between these two teams, especially most recently, sometimes you question it."
In the last series between the clubs, Bucs left-hander Tony Watson hit Brandon Phillips in the left forearm, forcing the Reds second baseman to miss four games with a contusion. The next day, Cincinnati starter Mat Latos hit Walker in what was considered an obvious retaliation.
But even though Walker -- a switch-hitter -- said he was certain of the intent behind the Latos pitch and not entirely sure about the heater from Chapman, he was much more upset with the latter, especially since the book on the sometimes wild Reds closer is that he'll miss either up and away or down and in to righties.
"If that's the route that we're going to go down of giving in to, 'If you hit our guy, we're going to hit yours,' then that's the way it's going to be. But by no means, balls should not be anywhere near anybody's head," Walker said. "Like I said, I was hit by Latos last time at our place. I was fine with it because he hit me right in the butt. We moved on. Whether last night was any part of that, I don't know. It's tough to get me, in particular, fired up about things, but when you see a 100-mph fastball come pretty close to your face, you've got to wonder a little bit."
On Tuesday, Pittsburgh starter Charlie Morton's first pitch hit Cincinnati leadoff man Shin-Soo Choo in the knee.
Pirates manager Clint Hurdle said his team has stressed pitching inside since Spring Training, and the team has had success doing so. He knows his pitchers will miss too far inside on occasion, and sometimes that leads to retaliation, especially against a division rival. Although he doesn't personally emphasize the practice, Hurdle understands it.
"I think our pitchers have that mentality sometimes," Hurdle said. "They want to defend their players, they want to defend their teammates. It's not so much about retaliation. It's not so much about being proactive, but there's definitely a point in the game where I think you want to be professionally reactive."
There's been no shortage of hit batters when the Reds and Pirates get together. Andrew McCutchen took a pitch from Mike Leake in the back Monday, but considering it came with an 0-2 count in a scoreless game, McCutchen thought nothing of the pitch, and he even said Leake gave him a nod once he reached first base to indicate it was a mistake.
In the last series between the two teams, Pirates pitchers hit six Reds batters, while the Bucs were hit four times by Cincinnati pitching. For the season (seven games), the count is 8-7 with the Pirates leading the way as primary offenders.
Hurdle said there's no way to accurately determine intent, but he also indicated he saw nothing behind the Leake pitch while being a little more suspect of Chapman's heater.
"I saw Leake throw 101 pitches, and I saw one of them get away," Hurdle said. "I saw him follow the glove and dot the glove up all day long around the strike zone. I saw Chapman throw 20 pitches. I saw one up and in. We've seen it before. That's what I see."
Jeremy Warnemuende is an associate reporter for MLB.com. This story was not subject to the approval of Major League Baseball or its clubs.