Donaldson not focusing on rough stretch at plate
Donaldson not focusing on rough stretch at plate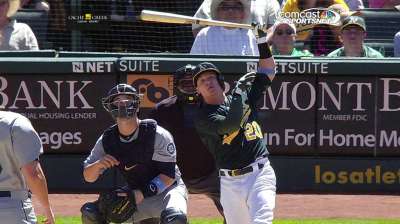 ARLINGTON -- Josh Donaldson feels he's been hitting the ball hard despite the lack of results lately.
Donaldson, who entered Tuesday in the midst of a 6-for-41 slump, was hitting sixth in the A's lineup against the Rangers. During the rough stretch, he has seen his batting average drop from .332 to .303. Two of those hits came on Sunday against the Mariners. He went 0-for-3 with a walk Monday against the Rangers.
"It's just one of those times in the season where you go through it," Donaldson said. "You try not to focus on it too much and just get back to your approach and continue to hit balls hard."
Donaldson said he's watched video of his at-bats to see how pitchers are attacking him at the plate. He said he's getting more offspeed pitches, which he doesn't have a problem with.
"I feel like my swing is fine," Donaldson said. Everything is fine. I've just got to go out there and continue the same approach. … It's all about making adjustments. Guys are going to make adjustments to you, and you've got to make adjustments back with them."
Donaldson is in the midst of his best season during his young three-year career. He has a .370 on-base percentage with a .500 slugging percentage to go along with 10 home runs and 43 RBIs in 264 at-bats.
"You're always going to go through some periods in the season where you're not getting the results you normally do," A's manager Bob Melvin said. "That's kind of the case for him up until [Sunday] , but he's probably been our most consistent guy over the course of the season."
Master Tesfatsion is an associate reporter for MLB.com. This story was not subject to the approval of Major League Baseball or its clubs.