Still not 100 percent, Cespedes remains at DH
Still not 100 percent, Cespedes remains at DH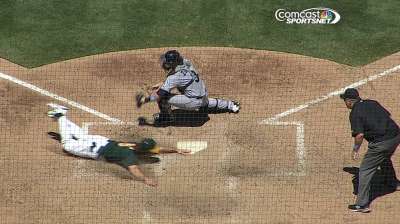 ARLINGTON -- A's manager Bob Melvin said Tuesday that Yoenis Cespedes' legs "aren't quite 100 percent."
Cespedes was slotted in the designated-hitter position for the fifth straight game. He entered the night 3-for-17 since returning to the lineup after experiencing tightness in his left hamstring.
"The more he attacks it, especially in the heat, sometimes it'll be tougher to be hydrated," Melvin said. "Those are all part of muscles, so we're being careful with another day. Whether it'd be tomorrow, I'm not sure yet. I take my lead from the trainers."
Melvin scheduled for the team to hit in the cages Tuesday to cope with the Texas heat. The A's will hold batting practice on the field again Wednesday and hit in the cages for Thursday's day game.
"It takes a little out of you, especially the first day," Melvin said. "You need to come here and get used to the conditions, but I think you benefit by not being out here every day."
Melvin followed the Rangers, who alternate at times throughout the season between batting practice on the field and in the cages. The A's have also had a tough schedule, playing 17 in a row without an off-day, and they are now in a 13-game stretch without a break. In addition, the A's played 18 innings against the Yankees last Thursday.
"This might be the first night game that we have not hit, but I think it's the prudent thing to do -- especially in the stretch that we're in," Melvin said. "... The schedule hasn't been very kind to us here recently, when you're trying to keep your bullpen fresh. It's been a difficult stretch for us, as far as number of games played in the number of days."
Master Tesfatsion is an associate reporter for MLB.com. This story was not subject to the approval of Major League Baseball or its clubs.