Hicks making progress, but yet to run bases
Hicks making progress, but yet to run bases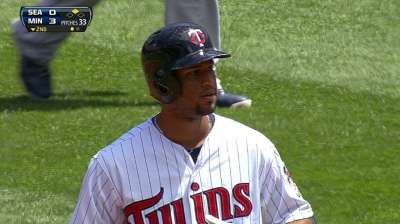 MINNEAPOLIS -- Twins center fielder Aaron Hicks continues to make progress with his strained left hamstring and was out on the field taking batting practice and catching fly balls before Tuesday's game against the White Sox.
Hicks, who has been on the 15-day disabled list since June 10, has started to participate in some light running drills, but has yet to run the bases.
"He's just doing his rehab," manager Ron Gardenhire said. He's feeling good. He was out running down fly balls in the outfield and doing fine. He said his leg is feeling better."
There's no timetable for Hicks' return, as he'll need a rehab assignment before he rejoins the Twins, as they want to be cautious with him, given the unpredictable nature of hamstring injuries.
"That's going to be determined," Gardenhire said. "He hasn't run the bases or anything like that yet. But he did take batting practice and has been doing drills with our strength guy. So before we make a decision, he'll have to run the bases for us and we'll have to do a rehab thing. We can't just stick him back in and say his hammy is OK because if something happens, we'll lose all that time."
Rhett Bollinger is a reporter for MLB.com. Read his blog, Bollinger Beat, and follow him on Twitter @RhettBollinger. This story was not subject to the approval of Major League Baseball or its clubs.