Doumit's go-ahead double propels Twins to victory
Doumit's go-ahead double propels Twins to victory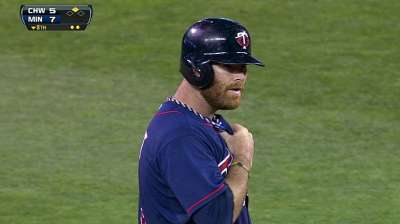 MINNEAPOLIS -- Given the struggles of the offense this month, Ryan Doumit didn't want to waste a prime opportunity to give the Twins the lead against the White Sox in the eighth inning on Tuesday night.
The Twins entered the game with just three hits in three of their previous four games, and Jared Burton had just given up the tying run in the top of the eighth.
But Doumit came through when it mattered the most, as he laced a go-ahead two-run double to help lead the Twins to a 7-5 win over the White Sox at Target Field.
Doumit's double came as part of a two-out rally against White Sox reliever Ramon Troncoso. Clete Thomas drew a walk before Joe Mauer singled to left, setting the stage for Doumit's clutch double to left-center.
"It was very important," Doumit said. "We had opportunities to drive guys in earlier, but kind of fell short. So it was nice to be the guy who came up with the big hit. Hats off to Clete and Joe for getting on base there. So it was a good team win."
It made a winner out of Burton, even though he gave up a game-tying RBI single to Paul Konerko. Konerko's fourth hit of the game scored Alex Rios, who walked to open the eighth and stole second. However, it wasn't enough for the White Sox, given Doumit's big hit.
"If you broke it all down, it was pretty even, it was just the one hit there at the end that did it," Konerko said. "Everything was even probably besides that."
Mike Pelfrey was left with a no-decision and went six-plus frames, surrendering four runs on 10 hits with three strikeouts and no walks. He has a 4.66 ERA in June after posting a 6.66 ERA through the first two months.
"I felt OK," Pelfrey said. "I feel like I didn't have any zip on my fastball, so that felt a little weird. The ball wasn't jumping out of my hand like it normally does. I thought command was OK, but I didn't start off too great, so I abandoned the four-seamer and threw all sinkers."
Pelfrey was staked to an early lead, as the Twins scored four runs in the first against White Sox right-hander Dylan Axelrod, who was able to settle down after a rocky first frame.
Thomas started it off by reaching on an error by second baseman Gordon Beckham, and Mauer made the White Sox pay with a two-run blast to left field. It was the seventh homer for Mauer, who previously had six solo homers this season. He went 3-for-5 and was a triple shy of the cycle.
Josh Willingham singled with one out and reached third on a double from Justin Morneau before Oswaldo Arcia walked to load the bases. It set the stage for a two-run single from Trevor Plouffe to center field on a 3-2 fastball. Brian Dozier then flied out to shallow left field before Pedro Florimon hit a soft grounder to shortstop Alexei Ramirez, who had no play at first, but was able to throw Arcia out at home as he tried to score from second on the play.
"We scored four early and you think, 'Here we go,' and we had a chance to score some more in the first, but I don't know what Arcia was doing," Twins manager Ron Gardenhire said. "He was just running. Who knows? Maybe it was his haircut. So we would've liked to see our chances with the bases loaded, but it didn't work out."
The White Sox struck right back with two runs in the second against Pelfrey, as Konerko doubled with one out before Conor Gillaspie connected on a two-run blast to right field. It was the fifth homer of the year for Gillaspie.
Chicago scored again in the fifth, when Beckham singled with one out and reached third on a double from Tyler Flowers. Beckham scored on a grounder from Alejandra De Aza, but Flowers was thrown out at third base on the play with De Aza advancing to second. De Aza made a baserunning gaffe on the next play, as he was thrown out while overrunning third base on a grounder to second by Ramirez and was thrown out by Dozier at third.
"Dozier made a couple of nice plays," Gardenhire said. "Getting the guy at third base was fantastic."
Pelfrey's final inning came in the seventh, as he allowed consecutive singles to Dayan Viciedo and Beckham to open the frame. Reliever Casey Fien came in and struggled with his control, throwing two wild pitches, but was able to limit the damage, allowing only Viciedo to score on a sacrifice fly by Flowers.
After Burton gave up the tying run in the eighth, closer Glen Perkins came in and tossed a perfect ninth to set a career high with his 17th save.
"We have a lot of confidence with Perk," Gardenhire said. "Tonight he had great stuff. His breaking ball and his fastball were really sharp there, too. So that's confidence."
Rhett Bollinger is a reporter for MLB.com. Read his blog, Bollinger Beat, and follow him on Twitter @RhettBollinger. This story was not subject to the approval of Major League Baseball or its clubs.