Segura bidding to join elite All-Star company
Segura bidding to join elite All-Star company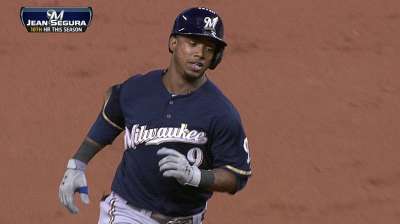 HOUSTON -- Not since Robin Yount was the reigning American League MVP in 1983 has a Brewers shortstop started the All-Star Game. Jean Segura has a chance, though he insists he has not thought about it.
"I don't see anything about it," he said. "I just play my game and don't think about that. I don't know anything about the All-Star Game."
He ranked third in the most recent fan balloting results released by Major League Baseball, but the leading vote-getter, Troy Tulowitzki of the Rockies, is on the disabled list with a broken right rib and is sure to miss the event.
Tulowitzki's lead was so great (2,443,772 total votes, versus 1,293,476 votes for the Giants' Brandon Crawford, 1,188,317 votes for Segura and 905,976 for the Cardinals' Pete Kozma) that it is possible Tulowitzki will win the fan ballot and the All-Star starter, by rule, will go to the top vote-getter on the players' ballot. That is the same mechanism that made Brewers left fielder Ryan Braun a starting outfielder last year when the Dodgers' Matt Kemp was injured.
Brewers players have yet to cast their votes. Segura has a strong case, ranking second to Tulowitzki among NL shortstops in batting average (.330), home runs (10), runs scored (40), OPS (.890) and wins above replacement (3.1 using Baseball-Reference.com's measure). When he stole second base in the first inning of Tuesday's game, it made Segura the only player in the Majors with at least 10 home runs and 20 steals.
Only three shortstops have represented the Brewers at an All-Star Game: Yount in 1980, '82 and '83, Jose Hernandez in 2002 and J.J. Hardy in 2007.
Adam McCalvy is a reporter for MLB.com. Read his blog, Brew Beat, and follow him on Twitter at @AdamMcCalvy. This story was not subject to the approval of Major League Baseball or its clubs.