With big stretch coming, starters to get rest
With big stretch coming, starters to get rest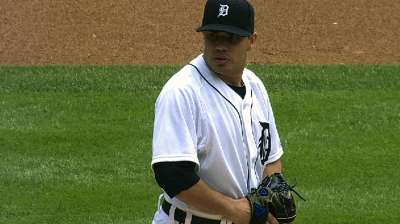 DETROIT -- The Tigers have an off-day coming up next Monday, and they plan to use it to give all of their starters an extra day of rest. They will not use it to push back Anibal Sanchez's spot in the rotation, which Jose Alvarez will fill.
It's not just a trust factor with Alvarez, who tossed six innings of one-run ball in his Major League debut on June 9 against Cleveland.
Monday is the last off-day the Tigers have before the All-Star break. They'll play 20 games in 20 days -- the longest stretch allowed without approval from the Players Association -- to close out the season's first half.
"Some guys like that OK, some guys don't really care, some guys would rather pitch five," manager Jim Leyland said, "but that's why you have a manager. Someone has to make a decision, and I'm going to take care of them.
"They work hard. Position players, that's a whole different thing. They work hard every day. But a pitcher, on those days he pitches, our guys, they work hard. They give you a lot, I appreciate that, and you want to make sure they have that in the bank for the second half. That's just my opinion."
Skipping Alvarez for a turn likely would not have made a difference in how many starts he gets. He'll make two starts regardless before Sanchez is eligible to come off the DL.
Thus, the rotation order will stay the same heading into the break. Unless something changes, that could leave Leyland with some interesting decisions for next month's All-Star Game. If this order holds, Max Scherzer and Justin Verlander would both be on track to pitch the final weekend before the break against Texas.
Scherzer would be on schedule to pitch that Saturday, followed by Verlander on Sunday. Pitchers named to the All-Star Game who pitch on the Sunday before the break take part in All-Star festivities, by rule, but cannot pitch in the Midsummer Classic.
Leyland has bigger worries right now than finding an All-Star starter. Usually, he said, that works itself out.
Jason Beck is a reporter for MLB.com. Read Beck's Blog and follow him on Twitter @beckjason. Bobby Nightengale is an associate reporter for MLB.com. This story was not subject to the approval of Major League Baseball or its clubs.