Big inning, low run support sink Wainwright, Cards
Big inning, low run support sink Wainwright, Cards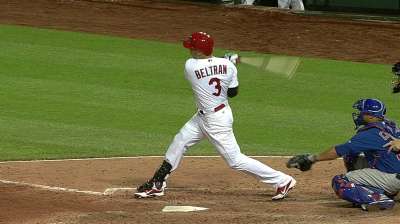 ST. LOUIS -- Seeking to pad his All-Star resume and claim his sixth straight win, Adam Wainwright instead fell victim to a first-inning blitz by the Cubs offense. Four over-the-plate pitches in a 15-pitch span left Wainwright staring up at a four-run deficit that his team would never entirely chip away.
The Cubs rode the explosive first inning to a 4-2 win on Tuesday, stalling Wainwright's pursuit to become the Majors' first 11-game winner. The Cardinals' offense, quiet for the first eight innings in front of an announced crowd of 44,139 at Busch Stadium, threatened to flip the game in the ninth before a double play -- the team's fourth of the night -- cut the rally short.
That last double play was of the unorthodox variety, and it drew manager Mike Matheny out of the dugout for a brief discussion with second base umpire Fieldin Culbreth as the Cubs celebrated their second win over the Cardinals this season. Culbreth ruled pinch-runner Shane Robinson out of the baseline as he slid at shortstop Starlin Castro in an effort to keep Castro from turning two.
Robinson was ruled out, as was hitter David Freese because of the interference. At the time, Robinson represented the potential tying run.
"It's a shame it had to end like that," Robinson said. "I didn't think it was that bad of a slide. I didn't contact him at all. I was a little surprised, but it wasn't my call to make."
"He wasn't even close to the base and he had his cleats up," added Castro. "I understand that you can try to break up the double play in that kind of situation but not like that. ... I couldn't throw the ball."
Matheny, however, credited Culbreth with getting the call right.
"The baserunner was out of the line," Matheny said. "We teach the guys to play hard all the way through it, but [Culbreth] made the right call. It's just frustrating to see the game end like that when the guys are making such a great push at the end."
The Cardinals played from behind for the game's entirety after an uncharacteristic start from their ace. The first inning started plenty innocuous, with Wainwright retiring the first two batters he faced. But Wainwright wasn't following through on his delivery properly, and the Cubs took advantage when that resulted in pitches trailing back over the plate.
Consecutive doubles by Nate Schierholtz and Alfonso Soriano pushed across one run. Ryan Sweeney and Cody Ransom followed with back-to-back homers to add three more.
"Gosh, I had two outs there and for four batters there, if they had a happy zone, I found it," Wainwright said. "I threw it in the worst spot possible every time. To give up four straight extra-base hits with two outs is unforgivable. I have a scouting report. I have a game plan. Four hitters in a row, I completely didn't execute a pitch."
The four runs matched the number of first-inning runs Wainwright had given up in his first 14 starts combined. In fact, in only one of those starts had Wainwright given up four earned runs in total. After allowing two homers in his first 103 innings this season, Wainwright gave up two four pitches apart.
Wainwright's ERA, which was 2.18 at the start of the night, reached 2.37 by the end. He remains winless in his last five starts against the Cubs, a string of outings dating back to 2010, when he earned his 20th win by defeating Chicago in his final pre-surgery start.
But Wainwright returned to form quickly on Tuesday. As he entered the dugout after the first, pitching coach Derek Lilliquist suggested Wainwright check film to see if he was opening his body up as he finished his stride. Wainwright did, identified the issue, and corrected it when he warmed up the next inning.
"Once I felt it," Wainwright said, "I knew exactly what I wanted to do."
Wainwright made the rest of his 104-pitch start with relative ease. He ended the seven-inning outing with six scoreless frames, scattering only three hits throughout. Of the 16 batters Wainwright faced immediately after serving up the pair of homers, he retired 15.
The bounce back was admirable -- and kept the bullpen from being called to help early -- but it was too late to prevent Wainwright from taking his fourth loss of the season.
"After that [first inning], he was the Adam that we've seen all year long," Matheny said. "He did a great job really sticking through there and picking up our bullpen. More importantly, he kept us in there. We had a chance."
Cubs starter Jeff Samardzija contained the Cardinals from start to near-finish. Aside from Carlos Beltran collecting his 17th home run off the season -- a blast that banged off the right-field foul pole in the sixth -- Samardzija pitched the first eight innings with no other trouble. Three double plays behind him -- all coming after a leadoff hitter reached -- helped.
"It's a rivalry game, and with that aside, you have a respect for this team and how they play the game and how they set their lineup up, one through nine," Samardzija said. "You know you've got to come at it. I'm watching film five days before and trying to find some weaknesses, and you can look as hard as you want and you're not going to find it. You just know your margin of error against this team is real small and you've just got to deal with it."
Eyeing his second complete game of the year, Samardzija instead opened the door for the Cardinals in the ninth. One-out hits by Matt Holliday and Allen Craig chased the righty from the game. Molina, now batting a National-League best .367, drove home Holliday with his third single of the night, this one off closer Kevin Gregg.
Freese's game-ending double play followed, ending his 0-for-4 night that included three double plays.
Jenifer Langosch is a reporter for MLB.com. Read her blog, By Gosh, It's Langosch, and follow her on Twitter @LangoschMLB. This story was not subject to the approval of Major League Baseball or its clubs.