Verlander allows five runs in first loss to Orioles
Verlander allows five runs in first loss to Orioles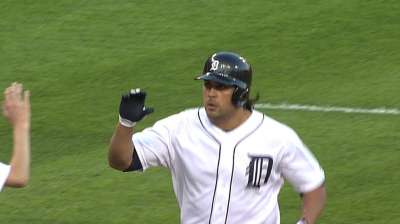 DETROIT -- Until Tuesday night, just 10 Major League players had homered three times off Justin Verlander in his eight-year career. J.J. Hardy needed just five at-bats this year to get three homers off him, including a two-run shot in the fourth inning on Tuesday.
Adam Jones was 2-for-26 for his career off Verlander before his three-run homer an inning later.
That not only sums up the scoring for the Orioles in Tuesday's 5-2 Tigers loss at Comerica Park. It sums up the night for Verlander, who lost to the O's for the first time in his career.
It does not sum up the season, contrary to what some might say, but it sums up the feeling.
"It's been a battle so far," Verlander said.
By the standards of most Major League pitchers, even a lot of aces, Verlander is not having a bad year. By the standards he created, an 8-5 record and 3.72 ERA is out of sorts. Whether it's a downturn is a matter of opinion.
"When you're one of the faces of the game -- which he is, and he's a great pitcher -- people talk more about those guys than they do the fifth starter," manager Jim Leyland said. "I don't know if that's wrong or right. That's just the way this game is.
"And when you have a star pitcher and he doesn't have a good outing, it's a good conversation piece for people. All I can do is sum it up from what I saw tonight. And what I saw was, he didn't command his fastball. That was a no-no for him."
Verlander had seven-inning quality starts in each of his previous four outings, and he came within a Jose Valverde blown save last week of winning all four. Before that stretch, Verlander allowed 16 earned runs on 22 hits in 12 2/3 innings over three starts.
"Obviously, you have that stretch of three or four starts where it was pretty frustrating," Verlander said. "You know, I guess I'm always trying to get better, and I feel like I've made adjustments to get to that point. I feel like I've been getting better, better, and better. That's not necessarily going to work towards a perfect game, but you're not going to get better every time.
"There's ups and downs, peaks and valleys. Tonight was just one of those nights where two long balls hurt me. Who knows what happens if I'm able to execute those [home run] pitches a little bit better? I'm not saying that I regressed. It's just one of those games."
His previous start last Wednesday in Kansas City was "vintage Verlander," as Leyland put it earlier on Tuesday. His latest outing was more of a throwback to the rough stretch from last month. He spotted just over 60 percent of his fastballs for strikes, according to data gathered from MLB.com's Gameday app. By contrast, he threw about 70 percent of his fastballs for strikes last Wednesday against the Royals, according to brooksbaseball.net.
He had his velocity early on Tuesday, topping out at 98 mph on back-to-back fastballs to Jones to escape a bases-loaded, third-inning jam, but he had to turn to it early because he didn't have his control.
Verlander lost Nick Markakis to three walks, two of them with two outs. The second walk loaded the bases in the third. Each time, Verlander struggled to get his off-speed pitches over the plate before struggling to finish him off with fastballs. The first two times, Verlander escaped with fly-ball outs from Jones.
The second time he left the bases loaded, it left him at 60 pitches through three innings. That's when Leyland grew nervous.
"It almost got up to the point where I looked up and I said, 'Oh, this is going to be a tough one for the manager,' because he's possibly got 60 pitches after three innings," Leyland said. "As a manager, that's not a good feeling."
Hardy's home runs off Verlander on June 1 included an 0-2 curveball he picked up and drove out to left. After a one-out walk to Matt Wieters in the fourth inning on Tuesday, he turned on a slider.
"I felt like the pitch to Hardy was actually a decent pitch," Verlander said. "It was down, it was a slider, just more middle than away."
It was the sixth home run of the year off Verlander. Half of them had been to Hardy, who joins former division foes Jim Thome, Jermaine Dye and Victor Martinez as players with three homers in one season against him. Thome and Dye did it in Verlander's rookie season of 2006; Martinez did it a year later.
"Speechless," Hardy said. "I couldn't tell you how it happened. I feel like I just kind of blacked out and I'm happy about it."
Jones' home run was the result of fastball command, after Verlander walked Markakis for the third time, this time on four pitches. He barely missed inside on back-to-back fastballs, but his first-pitch heater to Jones went right over the plate.
"He was up there jumping, trying to ambush me first-pitch fastball, and I gave it to him," Verlander said. "But it wasn't well-located, it was up and almost middle, outer half, right where he wanted it."
Said Jones: "We were able to get to him early. We were able to make him mad early and got him angry. That's what's cool."
Not only was Verlander 8-0 with a 2.93 ERA against the O's before Tuesday, he had worked through six innings in each of their previous 12 meetings. This time, he was done after five innings and five runs.
It wasn't what the O's are used to seeing against him. Whether it's a sign of something bigger is up for debate.
"He's dirty," Jones said. "We battled against him. Sometimes you get beat, and tonight we beat him."
Jason Beck is a reporter for MLB.com. Read Beck's Blog and follow him on Twitter @beckjason. This story was not subject to the approval of Major League Baseball or its clubs.