Hardy, Jones homer as O's win first over Verlander
Hardy, Jones homer as O's win first over Verlander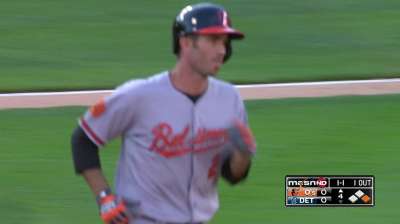 DETROIT -- The Orioles were on the wrong end of the record books on Monday night, watching as Detroit starter Max Scherzer struck out 10 en route to becoming the second Tigers pitcher in 112 years to open the season with 10 wins and no losses.
They were involved in history again on Tuesday night, but this time it will be something worth remembering. Baltimore used a pair of home runs to chase Tigers ace Justin Verlander after five innings in a 5-2 victory, handing one of the game's best pitchers his first loss in 13 career starts against the Orioles.
"I couldn't tell you how it happened," said shortstop J.J. Hardy, who connected for his third homer in two games against Verlander. "I feel like I just kind of blacked out and I'm happy about it."
Buoyed by a solid start from lefty Zach Britton -- who was recalled from Triple-A Norfolk prior to the game -- and some dazzling defense, the O's scored five runs off Verlander and the bullpen ensured it held up.
The Orioles relief corps pitched 3 2/3 innings and closer Jim Johnson -- who picked up his Major League-leading 26th save -- got Miguel Cabrera to ground into a game-ending double play to put the finishing touches on a series-evening victory in front of 34,796 at Comerica Park.
"Their bullpen's pretty good, but you'd rather face their bullpen than face Verlander," said center fielder Adam Jones, who delivered a three-run homer in the fifth. "And especially in the later innings, he gets a tad angry and he hits that 98, 99 [mph] mark.
"First couple of innings, everybody knows he throws 92,93 and he gets his strikes, and works on his pitches. Fifth, sixth rolls around, you ain't touching him. We were able to get to him early. We were able to make him mad early and got him angry. That's what's cool. It's cool to see that."
Hardy got the Orioles on the board in the fourth, sending a 1-1 pitch from Verlander into the stands for a two-run shot that also scored Matt Wieters. Hardy -- who has 14 homers on the season-- has three of the seven homers Verlander has allowed this year, a stretch of dominance the Tigers ace compared to Jim Thome.
Verlander, who said the slider Hardy hit was a pretty good pitch, felt like his command wasn't as sharp, and there were a lot of borderline pitches that the Orioles were able to lay off.
"The one that really hurt me, fastball-wise, was the one to Jones," said Verlander, who was at 60 pitches through three innings. "You know first pitch, he was up there jumping, trying to ambush me first-pitch fastball, and I gave it to him. But it wasn't well-located, it was up and almost middle, outer half, right where he wanted it."
Jones' blast pushed the lead to 5-0, also scoring Manny Machado and Nick Markakis, who had worked the fourth walk off Verlander. The offense not only chased Verlander from the game, but gave Britton, making his second start of the season, plenty to work with.
In his first big league start since April 20, Britton went 5 1/3 innings and held Detroit to one run on five hits and three walks. The 25-year-old maneuvered around a lethal lineup that entered the day with three of the American League's top batting averages against left-handed pitching.
"I think to me, it's the story of the night, him coming up and throwing the way he did," Hardy said of Britton's 92-pitch outing, "Him giving us a chance to win was a big deal."
"He was crisp," manager Buck Showalter said. "He attacked the zone. He was talking about trust himself and go after it and see what happens, and he did. That's a tough lineup for a left-hander to go through. There are not any breathing spots there at all. You look back at a lot of really good relief pitching, but Zach getting us that deep and making those runs matter. Those zeros after we scored were big."
Britton was helped greatly by his defense, with Nate McLouth throwing out slugger Miguel Cabrera trying to stretch a single to a double to end the first inning and Machado -- who stretched his own Major League lead in doubles to 33 -- making an impressive play to start the bottom of the fourth.
Torii Hunter crushed a ball down the third-base line and Machado made a diving stop, got up and fired the ball across the diamond to rob Hunter of an hit and record the first out of the inning. Britton went on to strand a pair of baserunners.
"I was impressed," Jones said of Britton. "We know this lineup. When you face the Tigers, their top six is one of the top sixes in all of baseball, and they're all veterans so they know what they're doing. He used the defense, just played good defense, and threw the ball well."
Britton didn't allow a run until the fifth inning, when Matt Tuiasosopo sent an 89-mph fastball into the right-field stands to make it 5-1. The Tigers threatened with a two-out walk and a single to bring Cabrera to the plate. But Britton got Cabrera to ground out to end the inning.
"I felt like it was OK," Britton said. "Lot of things to improve on, I would have liked to go deeper in the game and I feel like if I didn't walk [Prince] Fielder [in the sixth], I would have had that opportunity."
Britton exited his outing after retiring Victor Martinez in the sixth, leaving Fielder on first for right-hander Darren O'Day, who recorded a pair of strikeouts.
O'Day allowed a trio of singles in the seventh, resulting in the Tigers' second run. With runners at first and second and none out, O'Day nearly got a double play when Hunter hit a grounder to third, but umpire Laz Diaz ruled that Machado didn't tag Brayan Pena running to third before Machado got the force at second.
Diaz appeared to call Pena out, pointing toward third as Machado threw to second, which led to Showalter arguing the call.
"On that play, the runner is coming towards me. It can either be the second-base umpire or the third-base umpire," third-base umpire Tim Timmons said. "Laz was at second. I was at third. The point was to me, to tell me that [it's] my play. So he pointed at me immediately.
"There's no tag. We looked on the replay. There doesn't appear to be a tag on there. There was no tag. The initial call was just communication between us, and we explained that to Buck when he came out."
Showalter said he chose to take his player's side. Machado said he thought he got Pena with the tag.
"At first, raised his shirt a little bit, grazed it and then I thought he ran out of the baseline," Machado said. "I thought [Diaz] called out at first and then turned around and he said no. It was a tough call by him. It could have gone either way, but it happened."
After Showalter came out to argue the decision, O'Day got Cabrera to pop up and lefty Brian Matusz needed one pitch to get Fielder to do the same. Tommy Hunter tossed a scoreless eighth before handing the ball off to Johnson.
Brittany Ghiroli is a reporter for MLB.com. Read her blog, Britt's Bird Watch, and follow her on Twitter @britt_ghiroli. This story was not subject to the approval of Major League Baseball or its clubs.