Royals stopped in their tracks in loss to Tribe
Royals stopped in their tracks in loss to Tribe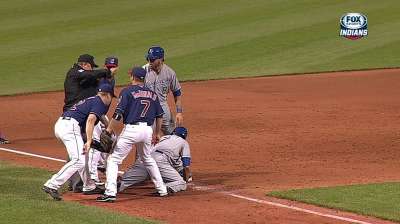 CLEVELAND -- Around third base came David Lough carrying the tying run for Kansas City. He stopped dead in his tracks and so did a budding comeback for the Royals.
Good times skidded to a halt for Kansas City on Tuesday night as the Cleveland Indians staged an eighth-inning rally to beat the Royals, 4-3. Just like that, they were below .500 again and back in third placein the American League Central. The fortunes of baseball can turn quickly.
A crucial moment came in the Royals' ninth inning against Indians reliever Vinnie Pestano, summoned to protect the one-run lead. Lough led off with a single and Mike Moustakas also singled, putting Lough at second. Chris Getz failed to bunt and struck out. Alcides Escobar lined a single to right field and Drew Stubbs swooped in to grab it.
"I saw the single toward the line so, in that type of situation, I thought I was going to score and came around," Lough said.
But third-base coach Eddie Rodriguez was holding up a stop sign. Lough, though, was headed home and belatedly stopped halfway between third and the plate.
"By the time I picked Eddie up, I was halfway. So, I take full responsibility for that," Lough said. "It just one of those situations where he was holding me up and I didn't really see him until I got halfway. ... I was pretty much caught. He [catcher Carlos Santana] had the ball and I knew I was just going to get in a rundown."
Lough was and dived back into third base, but Moustakas was also there. That's a fundamental violation of Abner Doubleday's concept of the game. Usually, however, the players aren't very up to snuff on the rules and aren't sure just who they should tag.
"That's why you tag everybody," Indians manager Terry Francona said. "Tag everybody in sight. Umpire, everybody. Hope somebody gets off the bag."
So the Indians started tagging people and Moustakas was declared out because the base technically belonged to Lough. For a moment, Lough took his hand off the bag, but Moustakas yelled a warning and he got back before being tagged again. If he had been, Lough would have been out as well, but he avoided that.
For his part, Pestano was surprised that Lough was held up.
"I was. I thought I just blew the game, to be honest," Pestano said.
Anyway, that was two out. Alex Gordon walked to load the bases, but Pestano got Eric Hosmer to ground out and the game was over. The Royals had three hits and a walk in the ninth inning, but no runs. Yes, the Lough gaffe was a killer, but manager Ned Yost saw other failures.
"What proved to be a killer was we couldn't execute a bunt with runners at first and second. There were a number of factors there in the ninth inning," Yost said. "[Monday] we found a way to win and we had the opportunity to do it again today. ... If we execute a bunt there, Esky's hit could be the winner for us. It's the two runs that we needed, but it just kind of went downhill from there."
Then, of course, there was the bullpen's failure to hold a 3-1 lead for starter Ervin Santana, who held the Indians to three hits in his seven innings.
However, reliever Kelvin Herrera walked Ryan Raburn to start the eighth and, after an out advanced him to second, Michael Bourn's single drove him home.
"When a hitter walks, that's going to kill you eventually," Herrera said. "I can't walk that guy."
Mike Aviles also singled and left-hander Tim Collins was summoned to face left-handed batter Jason Kipnis. He dropped a run-scoring double into left field for a 3-3 tie. After an intentional walk to Santana, Michael Brantley's sacrifice fly put the Indians ahead.
"The one [Kipnis] hit was a pretty good pitch, a broken-bat [double]. Not really much you can do there," Collins said. "All you can do is try to go out there and get out of it clean."
But it didn't work out that way.
The Royals were pretty much given their three runs. In the third inning, they scored twice on two walks, two wild pitches by starter Ubaldo Jimenez and a groundout.
They also were given an insurance run in the top of the eighth. Reliever Cody Allen, taking Hosmer's tap, threw so poorly past first base that Hosmer reached third on the error. Salvador Perez promptly drove him in with a single for a 3-1 lead.
"That was a big run, that tack-on run in the eighth," Yost said. "At that point, you're looking down in the bullpen and you've got Herrera, Collins and [Greg] Holland to protect a two-run lead. We don't give up the lead coming into the eighth inning very often, but we did tonight."
Almost lost in the flurry of the last two innings was a sterling performance by Santana.
"Spectacular game," Yost said. "Great job of changing speeds, keeping them off balance. His fastball, he pitched to great locations on the plate. The run that they got, both balls weren't hit very hard off of him. Just pitched a great game."
But a third straight victory eluded Santana, just as a 12th win in 14 games eluded the Royals. Even so, they were still just five games behind first-place Detroit in the AL Central.
"We've just got to forget about this one, get 'em tomorrow and keep playing hard," Santana said.
Dick Kaegel is a reporter for MLB.com. This story was not subject to the approval of Major League Baseball or its clubs.