Bats limited by Lee as Detwiler falls to Phillies
Bats limited by Lee as Detwiler falls to Phillies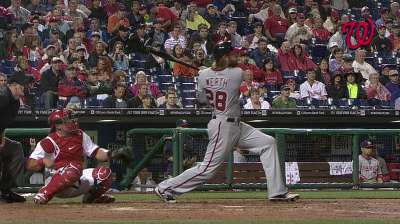 PHILADELPHIA -- The Nationals and the Phillies found themselves in a pitchers' duel on Tuesday night at Citizens Bank Park. But the Phillies' offense would soon take over the game, scoring three runs in the bottom of the sixth inning to help Philadelphia defeat the Nationals, 4-2. Washington has lost three straight games and is now two games under .500 with a 34-36 record.
The Nationals couldn't take advantage of the fact that the Braves lost a doubleheader to the Mets. Washington is tied with Philadelphia for second place in the National League East and seven games behind Atlanta.
"It's a long season. I don't worry about what the Braves are doing," manager Davey Johnson said. "We need to right our ship here. We do that, we'll be fine. There is plenty of time left. It's little too early to watch the scoreboard."
Nationals left-hander Ross Detwiler was solid during the first five innings, allowing a run on three hits. But things started to unravel for Detwiler in the sixth. Ben Revere led off with a bunt single. With the hit-and-run on, Michael Young doubled into the right-field corner, scoring Revere.
After Jimmy Rollins singled and Ryan Howard was hit by a pitch to load the bases, it looked like Detwiler was going to get out of the jam. Detwiler struck out Domonic Brown and Delmon Young for the first two outs of the inning. But Kevin Frandsen hit a line drive to left fielder Steve Lombardozzi, who seemed unsure of himself and let the ball drop in front of him for a two-run single.
"That was a tough play," Lombardozzi said. "I was going in on it. I would have to dive to catch it. So I was kind of in between. I didn't know if I could catch it. The last thing I wanted to do was let the ball get behind me. I was able to come up with it and try to get the play at the plate."
Johnson has often said that he wants his team to be more aggressive at the plate, but it was passive against left-hander Cliff Lee, who was outstanding for the Phillies, allowing two runs on five hits with nine strikeouts over eight innings.
"Lee came right after us and threw a lot of first-pitch strikes. I mean, he came right after us -- really hard stuff," Johnson said. "He cut the fastball a little bit. [Detwiler] kind of matched him pitch for pitch and he looked like he got a little out of sorts in the sixth. The ball started coming up and he got a little wild. You have to tip your cap to Mr. Lee. He pitched one heck of a game."
Washington scored its first run against Lee in the fourth inning, when Jayson Werth clubbed a solo home run, his seventh of the season. In the top of the eighth inning, Jeff Kobernus, pinch-hitting for Craig Stammen, hit his first Major League home run, a solo shot over the left-field wall.
"Here is a youngster [Kobernus] from Triple-A and he goes up there. … He got a fastball and hit it out," Johnson said. "The early shot is the best shot."
Jonathan Papelbon closed out the Nats in the ninth for this 14th save.
"It just goes to show you that we are capable of playing a good game," Phillies manager Charlie Manuel said after watching his team win two straight games against Washington. "When we have all of our weapons lined up, especially [when] our pitching is fresh and ready to go.
"When our offense can produce four or five runs, especially if you give Cliff Lee or even Cole [Hamels] and [Kyle] Kendrick four runs or better, we have a really good chance of winning. If we can get our offense to where we average four and a half or five runs a game, of course our offense would pick up and we'd win more games, I think."
The Nationals didn't have a single at-bat with a runner in scoring position as they dropped to 16-23 on the road this season, and 6-9 in 15 games overall in June.
Werth is optimistic that the Nationals can get on a roll. As he put it bluntly, "We have to suit up tomorrow and eat somebody's face."
Werth continued: "We need to get on a roll. You got to have start rallies, winning streaks. Usually, that's how you create an identity. That's how you mash together, that's where chemistry comes from.
"You have to have those moments, those come-from-behind wins. You kind of create that stuff. Right now, we just haven't. It's not for a lack of trying, wanting or effort. For whatever reason, it just hasn't happened. Hopefully, it will turn here soon."
Bill Ladson is a reporter for MLB.com and writes an MLBlog, All Nats All the time. He also could be found on Twitter @WashingNats. This story was not subject to the approval of Major League Baseball or its clubs.