Schumaker awaiting word on appeal
Schumaker awaiting word on appeal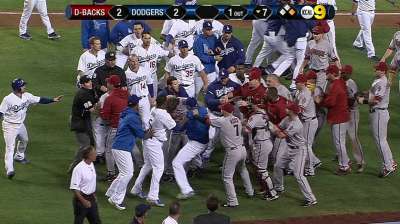 NEW YORK -- Now that the Dodgers are in New York, Skip Schumaker's appeal of a two-game suspension should be resolved, right?
"Haven't heard a word," said Schumaker. "Not on [Monday's] off-day, either."
Schumaker was handed a two-game suspension by MLB for "aggressive actions" in the benches-clearing incident after Arizona's Ian Kennedy hit Zack Greinke with a pitch near his neck a week ago, but Schumaker said replays will show that he was playing peacemaker.
Schumaker's actions might have been misinterpreted because, as the on-deck hitter, he was already on the field and appeared on the scene faster than the other Dodgers.
Ken Gurnick is a reporter for MLB.com. This story was not subject to the approval of Major League Baseball or its clubs.