Sox wait out rain to beat Rays in twin bill opener
Sox wait out rain to beat Rays in twin bill opener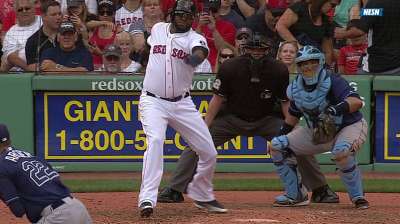 BOSTON -- Alfredo Aceves has restored himself into a spot starter the Red Sox can count on.
For the third time in a span of 22 days, Aceves was summoned from Triple-A Pawtucket for a start that turned into a win.
The right-hander fired five strong innings while leading the Sox to a 5-1 victory over the Rays in Game 1 of Tuesday's doubleheader.
"He's got the ability, I don't want to say to pitch on the fly, but coming in and knowing it's a one-shot deal, he's done a very good job," said manager John Farrell.
Aceves could have gone longer, except for a rain delay of two hours and 59 minutes that occurred with the Red Sox batting in the bottom of the fifth.
"Once again, Alfredo comes in and does his thing -- five solid innings of work," said Farrell. "He would have been in line to go back out for the sixth had he not been interrupted by the rain. Most importantly, other than the three walks in that second inning, he was around the plate often, got some early walks and was efficient."
In a 75-pitch performance, Aceves gave up three hits and a run, walking three and striking out two. Over those three starts, Aceves has gone 17 innings and allowed just three runs.
"The one thing that he's shown in the three starts mentioned is a good focus in between the lines," Farrell said. "He and [catcher Jarrod Saltalamacchia] have gotten on a pretty good wavelength. There hasn't been a whole lot of shaking off on Ace's part. He's trusted the work that Salty has put in."
The biggest challenge Aceves faced was getting to the ballpark in time to pitch. Farrell wouldn't say exactly how much in advance Aceves arrived before the 1:05 p.m. ET start time, but lefty Franklin Morales was sitting in the bullpen for a bit prior to the game in case he needed to start.
"Morales didn't throw. He was down in the bullpen," said Farrell. "Ace was delayed in traffic. He's not a guy that reports to the clubhouse early to begin with, and he was a little delayed. But he had ample time to get loose inside and go out and throw his 25 pitches of warmup."
The bullpen was nearly flawless following the rain delay. Junichi Tazawa worked a 1-2-3 sixth, striking out two. Andrew Miller gave up a hit, but struck out two in the seventh. Koji Uehara and Craig Breslow were both unscored on in the eighth and ninth, respectively.
Jacoby Ellsbury was the catalyst at the plate, going 3-for-5 and finishing a home run shy of the cycle.
Ellsbury belted a two-out triple in the sixth and Shane Victorino followed by ripping a triple of his own, making it a 5-1 game. It marked the first time Boston players produced back-to-back triples since Coco Crisp and Ellsbury did on Sept. 5, 2008, in a game played at Texas.
It was Ellsbury who got Boston started in the early stages of the game, lofting a double off the scoreboard in left to open the bottom of the first. With one out, Dustin Pedroia lifted a sacrifice fly to deep center, making it a 1-0 game.
Aceves got himself into a bind in the top of the second when he walked Evan Longoria and James Loney. With one out, Luke Scott drilled an RBI double to right to tie the game.
The top of the order sparked the Red Sox in the third. Ellsbury again got things going with a leadoff single to center. Victorino followed with a single to right. David Ortiz ripped a two-run single up the middle and the Sox were up, 3-1.
"Ortiz's big two-run single kind of works against their shift a little bit, but finds a way to get the two-run RBI," Farrell said. "It was a solid performance all around by the guys at the plate."
Ortiz made it a three-run game in the fifth when he poked a single to right to score Victorino, who had reached on an error.
Ian Browne is a reporter for MLB.com. Read his blog, Brownie Points, and follow him on Twitter @IanMBrowne. This story was not subject to the approval of Major League Baseball or its clubs.