Myers hitless in debut as Rays drop Game 1
Myers hitless in debut as Rays drop Game 1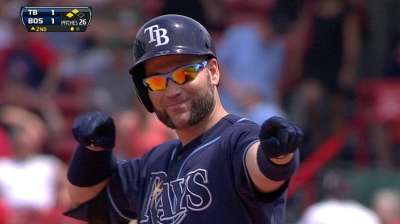 BOSTON -- Wil Myers didn't make much of an impact in his Major League debut Tuesday, but neither did the other eight batters in the Rays' lineup. A two-hour, 59-minute rain delay in the fifth inning broke up what was otherwise a dry spell for the Rays' offense -- especially with runners in scoring position -- as they fell to the Red Sox, 5-1, in Game 1 of a doubleheader at Fenway Park.
Making his highly anticipated debut, top prospect Myers, who batted sixth and played right field, went 0-for-4. He showed some first-game jitters when he swung at the first pitch after the two batters before him walked, but overall, he felt comfortable at the plate.
"I'm not a guy that takes a lot of pitches anyway," Myers said. "I should have gotten a better pitch to hit right there. Just got off my approach just a little bit obviously being my first at-bat."
The Rays' offense mustered just six hits and went 1-for-8 with runners in scoring position. The performance adds to a disturbing trend Tampa Bay has had against Boston. The Rays lead the American League with a .294 average with runners in scoring position. In 10 games against Boston this season, that stat is .139.
"When we were rolling, everybody was getting the hits when they counted," manager Joe Maddon said. "Right now, we're getting the folks out there, but the knocks are not forthcoming."
Chris Archer didn't do much to help the cause. He faced the Red Sox for his second straight outing, and just like the first one on June 12, control issues and a high pitch count forced him to exit the game before the sixth inning.
Amid a drizzling rain, Archer was removed from the game with two outs in the fifth inning, leaving the bases loaded and his team behind, 4-1.
Moments later, the skies opened up and sheets of rain enveloped Fenway Park, sending fans to retreat for cover and the game into a prolonged rain delay.
When play resumed two hours and 59 minutes later, Josh Lueke struck out Jarrod Saltalamacchia to end the jam.
In 4 2/3 innings, Archer gave up four runs (three earned) and struck out five. He threw 109 pitches (64 strikes) and walked five during the loss.
"I think at times I just let the game speed up on me," Archer said. "Multiple walks in two different innings, that's just never good, and it's a product of me letting things speed up. Otherwise, I felt good on the rubber. All my stuff was good. I think if I had to take one thing from the game is, whenever it starts to speed up and I notice it, to slow it down immediately instead of letting it build for eight to 10 pitches."
David Ortiz burned the rookie for three RBIs as he powered the highest-scoring offense in the Major Leagues and helped hand the Rays their fifth loss in six games. Tampa Bay is 2-8 against Boston this season.
Alfredo Aceves, who outpitched Archer in Boston's 2-1 triumph just six days earlier, was equally effective Tuesday. Before the rain delay forced his exit, he allowed one run and three hits through five innings. The win raised his record to 4-1 on the year.
"Once again, Alfredo comes in and does his thing -- five solid innings of work," Red Sox manager john Farrell said. "He would have been in line to go back out for the sixth had he not been interrupted by the rain. Most importantly, other than the three walks in that second inning, he was around the plate often, got some early walks, was overall efficient."
Tampa Bay's one run came in the second inning. Aceves issued free passes to Evan Longoria and James Loney to start the inning. After Myers flied out to center, Luke Scott doubled to right field, scoring Longoria.
Ortiz retaliated an inning later when he laced a one-out single just to the left of second base to score Jacoby Ellsbury and Shane Victorino and give the Sox a 3-1 lead.
In the fifth, Victorino reached first on a botched toss from Loney to a covering Archer and then advanced to second when Dustin Pedroia walked. Ortiz clubbed a one-out single to score Victorino for his third RBI of the game.
Ellsbury and Victorino hit back-to-back triples off Lueke to add an insurance run in the sixth.
Michael Periatt is an associate reporter for MLB.com. Follow him on Twitter @Michael Periatt. This story was not subject to the approval of Major League Baseball or its clubs.