Napoli returns to Red Sox's lineup for Game 1 vs. Rays
Napoli returns to Red Sox's lineup for Game 1 vs. Rays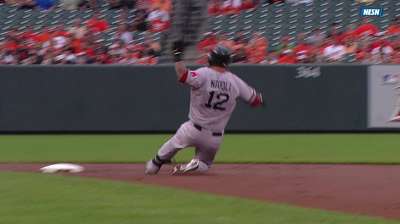 BOSTON -- After missing three games due to illness, Mike Napoli was back in the Red Sox's lineup batting fifth and playing first base in Game 1 of a doubleheader against the Rays on Tuesday.
Napoli left in the third inning of Boston's opener against Baltimore on Thursday and was out for the remainder of the series. Suffering from nausea and dizziness, Napoli was sent back to Boston to be examined by team doctors.
"Mike Napoli has obviously improved to the point of being in the lineup today," manager John Farrell said.
Napoli is batting .263 with nine homers and 49 RBIs in 67 games this season.
Mike Carp, who left Sunday's game with a cramp in his right hamstring, was not in the lineup for Game 1, but Farrell said he'll be available for the night game.
Michael Periatt is an associate reporter for MLB.com. Follow him on Twitter @Michael Periatt. This story was not subject to the approval of Major League Baseball or its clubs.