Maddon doesn't want Cobb to rush return from DL
Maddon doesn't want Cobb to rush return from DL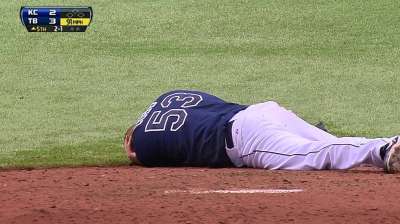 BOSTON -- Alex Cobb is out of the hospital and feeling better, but Rays manager Joe Maddon said the road to recovery will likely be a long one.
Whether Cobb, who sustained a mild concussion when he was struck on the right ear by a line drive off the bat of Royals first baseman Eric Hosmer on Saturday, will pitch again this season remains to be seen.
"It's going to be a long process, I think," Maddon said.
"I don't know [if he'll pitch this year]. I don't know one way or the other. We haven't even discussed that. Again, I think it's important that he gets to the next day and sees how he feels."
Maddon talked to Cobb on the phone Sunday and offered some advice.
"My advice to him was to not try to really rush anything, just permit your body to tell you when you're ready to do the next thing," Maddon said. "I think he's pretty much accepted that thought, because this guy is the kind of guy that really battles through every little moment. He's going to want to be back. If it was a sprained ankle, he understands that he could fight through something like that. This kind of an injury is much more difficult."
Cobb was taken to Bayfront Medical Center on Saturday and was kept overnight for observation. All tests came back negative, and after his diagnosis, the Rays placed him on the seven-day concussion disabled list.
Maddon said the team isn't sure who will replace Cobb in the rotation for the foreseeable future.
"I don't know that we're ready to announce that," he said.
Cobb's teammates were just happy to see him in good spirits. Hosmer, some Rays players and others visited him in the hospital on Saturday and left encouraged by what they saw.
"It was just cool to go and physically talk to him and see how he was doing," Hosmer said. "He was talking and there were a bunch of other guys from his team in there, and he was laughing and joking, so it was good to see that.
"I was just glad to see he was good, and it just made me feel a lot better to actually see it rather than just hearing about it."
Michael Periatt is an associate reporter for MLB.com. Follow him on Twitter @Michael Periatt. Jason Mastrodonato is a reporter for MLB.com. Follow him on Twitter @jmastrodonato. This story was not subject to the approval of Major League Baseball or its clubs.